Breast Cancer Charity Accused of Partnering with Corporations Linked to Cancer-Causing Products
Wednesday, October 29, 2014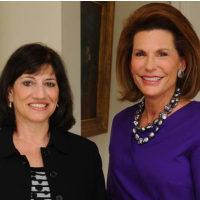 Komen CEO Judith Salerno and founder Nancy Brinker (AP photo)
Susan G. Komen, a leading breast cancer charity, has been accused of selling out to corporations whose products may cause cancer and other diseases.
One example cited is Komen's decision to accept $100,000 from Baker Hughes, supplier of equipment to the oil and gas industry. Baker Hughes has helped companies carry out hydraulic fracturing operations that use cancer-causing chemicals and even released 1,000 pink drill bits to be used in fracking operations to show its "support" for Komen.
In response to public pressure, Komen canceled a presentation at halftime of an NFL game during which its founder, Nancy Brinker, would have accepted the check from Baker Hughes.
Critics say Komen has been "pinkwashing" the cause of breast cancer awareness by taking money from corporations producing unhealthy products. A common chant at anti-Komen rallies has been: "Think before you pink!"
Those critical of Komen's tactics include Karuna Jaggar, executive director of Breast Cancer Action, who wrote in a Washington Post op-ed: "Pinkwashing publicity stunts serve one purpose. They generate public goodwill and profits for corporation and nonprofit alike."
Food & Water Watch has pointed out that Komen has partnered with water bottling companies that use BPAs, a carcinogen, and fast-food providers accused of selling food containing carcinogens. "From pink water bottles containing BPAs to pink buckets of KFC containing carcinogenic ingredients, Susan G. Komen has made it clear they are prioritizing their pink bottom line over people they're supposed to be helping," Food & Water Watch executive director Wenonah Hauter wrote, according to Common Dreams.
-Noel Brinkerhoff
To Learn More:
'Shame on Komen': Protesters Charge 'Pinkwashing' over Fracking-Charity Partnership (by Lauren McCauley, Common Dreams)
Komen is Supposed to be Curing Breast Cancer. So Why is its Pink Ribbon on so Many Carcinogenic Products? (by Karuna Jaggar, Washington Post)
Atlanta Archdiocese Calls Komen Cancer Charity "Evil" (by Noel Brinkerhoff, AllGov)