Germany's Ambassador to the United States: Who Is Peter Wittig?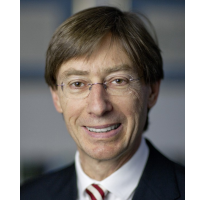 Peter Wittig was named Germany's ambassador to the United States on April 30, 2014. It's the fourth ambassadorial post for Wittig, a career member of Germany's Foreign Service.
Wittig was born in Bonn, then the capital of West Germany, on August 11, 1954. His father worked in a government ministry and his mother was a teacher. Wittig attended college at Bonn, Freiburg, Canterbury and Oxford universities, studying history, political science and law. After finishing school, he was an assistant professor at the University of Freiburg.
Wittig joined the Foreign Service in 1982 and some of his early assignments were to Madrid, Spain; to the United Nations in New York; as private secretary to the foreign minister; and as a spokesman in Germany's Foreign Ministry.
In 1997, Wittig was named Ambassador to Lebanon, serving there for two years before moving to Cyprus as Ambassador and German envoy on the Cyprus Question, the division of the island nation. He served there until 2002.
He returned to the Foreign Ministry, as deputy director for United Nations (U.N.) Affairs and Global Issues, then as director in 2006. Wittig was named Germany's ambassador to the U.N. in 2009. He successfully campaigned to win Germany a nonpermanent seat on the Security Council, speaking to 190 of 191 representatives in the process. Germany won a seat in 2010, but the campaign, while wound down, didn't completely cease as the nation made noises about being given a permanent seat on the Security Council, as the United States, Russia, China, Great Britain and France have. However, Germany's abstention from the 2011 vote on whether to enforce a no-fly zone over Libya might have hurt its chances in that quarter. Wittig was quoted at the time as being concerned for "the likelihood of large-scale loss of life" during such a campaign.
For a time during his U.N. tenure, Wittig was overshadowed by his wife, journalist Huberta Voss-Wittig. She and Sheila Lyall-Grant, wife of Britain's ambassador to the U.N., made a video urging British-born Asma al-Assad, wife of Syria President Bashar al-Assad, to help end violence in Syria.
Wittig and his wife, who was also spokeswoman for German Bundestag President Rita Suessmuth, have four children, Valeska, Maximilian, Augustin, and Felice..
-Steve Straehley
To Learn More:
U.N. Ambassadors' Wives Urge Syria's First Lady To 'Stop Your Husband' (by Eli Clifton, Think Progress)