As U.S.-Led Coalition Strikes ISIS, Women Emerge to Fight Against and Die at Hands of Terror Group
Monday, September 29, 2014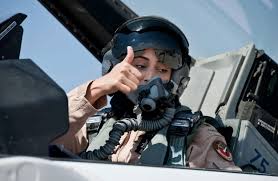 UAE Maj. Mariam Al Mansouri (Emirates News Agency Via AP)
The war against the Islamic State in Iraq and Syria (ISIS), a fundamentalist movement that views women in strictly traditionalist roles, has so far featured female fighter pilots attacking Muslim militants and female human rights advocates succumbing to ISIS's harsh treatment of women.
On the military front, an F-16 pilot from the United Arab Emirates has made headlines for participating in the initial airstrikes against ISIS targets in Syria. Major Mariam al-Mansouri, the UAE's first female fighter pilot, reportedly led her country's missions as part of a U.S.-led coalition to destroy the ISIS threat in the Middle East.
As Ishaan Tharoor wrote at The Washington Post: "The symbolism of a female fighter pilot bringing the heat to the women-enslaving Islamic State ought be lost on no one and is useful propaganda for the Emiratis."
But the news regarding women's roles in the ISIS conflict has also been gruesome. Samira al-Nuaimy, a female human rights lawyer in the Iraqi city of Mosul, which ISIS now controls, was executed recently at the hands of Islamic extremists. United Nations sources said she was killed by firing squad, and may have been tortured before her death.
Women's roles under ISIS are limited to having children and cooking for their husband, making someone like al-Nuaimy a threatening role model to fundamentalists. In fact, ISIS is now using social media to recruit women as wives for their fighters, according to Raja Abdulrahim at the Los Angeles Times. The organization offers tips on how to sneak across the border from Turkey, including advice to bring more than one abaya, a black robe worn by some Muslim women, in case the first is torn crawling under a barbed-wire fence.
-Noel Brinkerhoff
To Learn More:
UAE's First Female Fighter Pilot Dropped Bombs on the Islamic State (by Ishaan Tharoor, Washington Post)
Islamic State Executes Female Human Rights Lawyer by Firing Squad after Facebook Post (by Loveday Morris, Washington Post)
Islamic State Recruiting Women to 'Have Kids and Cook' (by Raja Abdulrahim, Los Angeles Times)
Obama and Kerry Ally U.S. with 8 Arab Dictators to Combat ISIS (by Noel Brinkerhoff, AllGov)
Islamic State (ISIS) may not be a Recognized Nation, but it Controls a Population Larger than Ireland (by Noel Brinkerhoff, AllGov)
Lawsuit Demands that Women be Allowed to Join Combat (by Noel Brinkerhoff and David Wallechinsky, AllGov)