Congress Takes 5 Weeks Off, Works for 8 Days and Takes another 8 Weeks Off
Monday, September 22, 2014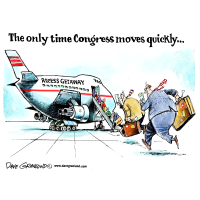 (cartoon: Dave Granlund)
It's not easy being a member of Congress, what with all the suitcase packing they've been doing.
Lawmakers took five weeks off from Washington during their summer break. They came back this month to work…for eight days. Now, they're jetting off again to their districts, or to the beach, where they'll spend nearly the next eight weeks not doing any legislative work.
The House had been scheduled to be in session Friday, then four days in the week of September 29, but House Majority Leader Kevin McCarthy (R-California) announced Thursday that that would be the final work day until after the November 4 midterm election, according to The Hill. Senators also were quick to head out of town. Now members of both houses have plenty of time to campaign without any pesky work getting in the way.
Some House Democrats publicly scolded their Republican counterparts for adjourning the House session earlier than expected. "The American people have to ask: 'What do you do for a living?'" Minority Leader Nancy Pelosi (D-California) told The Hill.
During their brief stay in the nation's capital, lawmakers managed to approve one key piece of legislation, which authorized the Obama administration to funnel weapons to Syrian rebels and approved short-term funding for government operations to avoid another shutdown.
Congress is scheduled to return on November 12. Its members will have just a few more lame-duck weeks to avoid setting a record for enacting the least number of laws of any Congress since such statistics began being kept in 1973. So far the current 113th Congress has enacted 163 laws, in comparison to the 284 passed by the 2011-2013 Congress. The 108th Congress, which operated in 2003-2004, enacted 504 laws. Since then, each Congress has passed fewer laws than the previous one.
-Noel Brinkerhoff
To Learn More:
Lawmakers Exit Washington to Campaign (by Cristina Marcos, The Hill)
Congress Heads Home After Exhausting Eight Days of Work (by Russell Berman, The Wire)
Congress Ashamed of Congress for Tending to Elections Before War Authorization Debate (by Jennifer Bendery and Sabrina Siddiqui, Huffington Post)
Yes, the House Is Going Home Already. No, This Isn't Some Kind of Record (by Sarah Mimms, National Journal)
Historical Comparison of Bills by Final Status (GovTrack.us)
Congress has Passed Barely One Law a Week in 2013 (by Noel Brinkerhoff, AllGov)