Federal Judge Details BP's Gross Negligence in Deepwater Horizon Disaster
Monday, September 08, 2014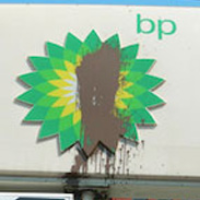 A federal court judge found Thursday that BP was "grossly negligent" for its actions that led up to the 2010 Deepwater Horizon oil spill. U.S. District Judge Carl Barbier in Louisiana tagged BP with the bulk of the responsibility for the disaster that killed 11 workers and dumped millions of gallons of oil into the Gulf of Mexico.
In liability terms, Barbier found BP was 67% responsible, while Transocean, which owned the oil rig, and Halliburton Co., which performed cement work on the ruptured well, were tagged for only 30% and 3%, respectively. BP had hoped that it and other two companies equally share responsibility for the spill, according to The New York Times.
BP is now facing fines amounting to $18 billion as a result of the judge's ruling, in which he remarked some company decisions "evince an extreme deviation from the standard of care and a conscious disregard of known risks." BP had set aside only $3.5 billion to pay fines, assuming it would be found to be simply "negligent." The "gross negligence" finding allows damages to be quadrupled.
Barbier also noted the drilling operation was behind schedule and over budget, which didn't help the "chain of failures" that led to the explosion and spill.
"Vital seals and stoppers were left leaky along the casing of the well, the judge found, while BP then skimped on tests that might have shown the problems caused by the shoddy work," the The New York Times' Campell Robertson and Clifford Krauss wrote. "When tests were run, the results were interpreted with optimism at best and dishonesty at worst, and several critical decisions made by BP were found by Judge Barbier to have been 'primarily driven by a desire to save time and money, rather than ensuring that the well was secure.'"
-Noel Brinkerhoff
To Learn More:
BP Is Found Grossly Negligent in Deepwater Horizon Disaster (by Daniel Gilbert and Justin Scheck, Wall Street Journal)
'Worst Case' BP Ruling on Gulf Spill Means Billions More in Penalties (by Margaret Cronin Fisk, Laurel Brubaker Calkins and Jef Feeley, Bloomberg)
BP May Be Fined Up to $18 Billion for Spill in Gulf (by Campell Robertson and Clifford Krauss, New York Times)
Findings of Fact and Conclusions of Law (U.S. District Court, Eastern Louisiana) (pdf)
EPA Lets BP Back into the Gulf of Mexico 4 Years after Deepwater Horizon Disaster (by Noel Brinkerhoff, AllGov)
BP, at Trial, Tries to Prove it was Merely "Negligent," not "Grossly Negligent" (by Noel Brinkerhoff, AllGov)