BP, at Trial, Tries to Prove it was Merely "Negligent," not "Grossly Negligent"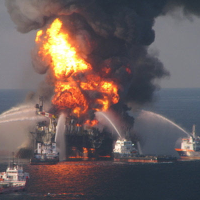 (photo: U.S. Coast Guard)
The April 2010 oil spill in the Gulf of Mexico was so bad that the company primarily responsible, BP, has tried to limit its liability in court by pinning some of the blame on other corporations and by arguing it was only "negligent," and not "grossly negligent" for the disaster.
Experts who observed the recently concluded trial in New Orleans, which pitted BP against plaintiffs that included small business owners and the federal government, said the oil giant may have succeeded in shifting some of the blame onto Transocean Ltd., which owned the oil rig that exploded, and Halliburton, which performed cement work on the undersea well.
If successful with this legal strategy, BP could reduce its share of the penalty for fouling large sections of the Gulf coast and polluting the ocean.
BP lawyers also tried to convince Judge Carl Barbier that if the company is to be found guilty, it should amount to only "negligence" and not "gross negligence."
Under the Clean Water Act, a "negligence" verdict would translate into fines of $1,100 for each barrel of oil spilled. But a "gross negligence" finding would result in a fine of $4,300 per barrel. Considering that the size of the spill is estimated at 4.9 million barrels, that's a difference of $15.7 billion.
The explosion on the Deepwater Horizon oil rig killed 11 people, injured 17, and leaked 210 million gallons of oil over the course of 87 days, making it the largest offshore oil spill and worst environmental disaster in U.S. history. BP has, to date, spent $42 billion on clean-up operations and fines.
A decision from Barbier could come as early as July.
-Noel Brinkerhoff
To Learn More:
What BP Doesn't Want You to Know About the 2010 Gulf Spill (by Mark Hertsgaard, Newsweek)
Analysis: BP's Legal Gamble May Trim Spill Bill by Billions (By Kathy Finn and Braden Reddall, Reuters)
Chemicals Used in BP Oil Spill Cleanup Suspected of Being Cancerous (by Noel Brinkerhoff and David Wallechinsky, AllGov)
Louisiana Oystermen Sue over Use of Toxic Dispersant in Gulf (by Noel Brinkerhoff, AllGov)
Feds Ignored Louisiana Concerns about Experimental Chemicals Used against Oil Slick (by Noel Brinkerhoff, AllGov)