Qatar's Ambassador to the United States: Who Is Mohammed Jaham Al Kuwari?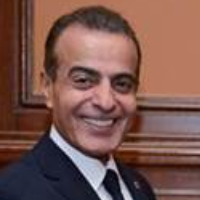 Mohammed Jaham Abdulaziz Al Kuwari was appointed as Qatar's ambassador to the United States in December, 2013. It's the second ambassadorial posting for Al Kuwari.
Al Kuwari was born May 20, 1958, one of 13 children of parents who could not read or write. Gaining a scholarship, he attended college in the United States, at the University of Portland in Oregon, where he earned a bachelor's degree in Political Science in 1980. He joined Qatar's foreign service the following year, with his first posting coming in Washington, D.C.
Al Kuwari remained in Washington until 1986, when he was sent to Qatar's mission to Spain. During his time there, he earned a master's degree in international relations from the University of Madrid in 1990.
He was brought home that year to be chief of the Information Department of the Cooperation Council to Qatar's Ministry of Foreign Affairs. In 1991, Al Kuwari was posted to the Qatari embassy in Tehran, Iran, where he remained until 1992.
Al Kuwari began a long stint home in 1993, first as deputy head of cabinet, then in 1995 as director of European and American Affairs. Beginning in 1997, he worked in Diplomatic Consular Services. Al Kuwari returned as director of European and American Affairs in 2001 and simultaneously was head of a Qatari delegation engaged in political and strategic dialogue with France.
He was posted to Paris as Qatar's ambassador to France in 2003 and was also accredited to Switzerland and the Holy See (Vatican City). He served in that post for 10 years, and in 2007 added the posts of non-resident envoy to Portugal and Monaco to his portfolio.
Since his return to Washington, Al Kuwari has seen Qatar complete a deal to buy a Patriot missile defense system, 24 Apache helicopters and 500 Javelin anti-tank missiles from the United States for $11 billion. In addition, he has said he is hoping to complete contracts with American companies to work on some of Qatar's many infrastructure projects to be built in the run-up to the 2022 FIFA World Cup.
Al Kuwari is married and has five children; four girls and one boy. He speaks English, Spanish, French and Arabic.
-Steve Straehley
To Learn More: