Brain-Eating Amoeba Found in Louisiana Drinking Water
Saturday, August 30, 2014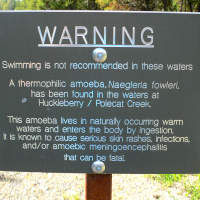 The Centers for Disease Control and Prevention (CDC) has confirmed the presence of a brain-eating amoeba in the water supply for the Louisiana communities of Reserve, Garyville and Mount Airy.
The Naegleria fowleri amoeba got into St. John the Baptist Parish's Water District No. 1, which provides water for about 12,500 residents.
CDC officials say ingesting water containing the amoeba is harmless because it cannot infect a person through the digestive system, but the contaminated water can prove fatal if it comes into contact with nasal passages, which is how it travels to the brain.
A four-year-old Mississippi boy contracted the amoeba while visiting St. Bernard Parish last year and later died.
"St. John is now under an emergency order to perform a 60-day free chlorine burn on the water system, in which the water lines are infused with free chlorine. That is a stronger, faster-acting disinfectant than the normal infusion of chloramines, a combination of chlorine and ammonia," Littice Bacon-Blood reported for the New Orleans Times-Picayune. As a precautionary measure, the St. John school system closed off all the water coolers in its schools.
-Noel Brinkerhoff
To Learn More:
Brain-Eating Amoeba Found In St. John Parish Water System, State Health Agency Reports (by Littice Bacon-Blood, New Orleans Times-Picayune)
St. Bernard Water System Tests Positive for Rare Brain-Eating Amoeba, CDC Confirms (by Benjamin Alexander-Bloch, New Orleans Times-Picayune)
Will Global Warming Unleash Deadly, Buried Viruses? (by Noel Brinkerhoff and Danny Biederman, AllGov)