Energy Dept. to Make Thousands of Research Papers Available to Public for Free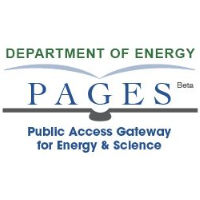 Anyone interested in the worlds of physics, energy and other scientific fields will soon have free access to thousands of research papers funded by the U.S. Department of Energy (DOE). In response to orders from the White House, the DOE has established a Web portal through which anyone can read research produced with public funds.
The new site, known as PAGES (Public Access Gateway for Energy and Science), is expected to feature 20,000 to 30,000 additions annually on a wide range of scientific subjects. Papers will become available one year after their publication in a journal.
Energy officials came up with the plan after President Barack Obama ordered federal agencies last year to devise ways for taxpayers to see the products of federally funded research for themselves.
Some agencies, like the National Institutes of Health (NIH), have already been doing just that. The NIH's PubMed Central archive has been around since 2008.
The PubMed model has upset some publishers who claim it "infringes on journal copyright and diverts readers from their websites, cutting into advertising revenues," according to Jocelyn Kaiser at Science Insider.
Kaiser says that with this criticism in mind, the administration chose not to demand agencies create a central repository for their papers. Instead, sites like PAGES will redirect interested readers to a journal's or publisher's own website to view a particular paper.
This decision, however, produced criticism from another perspective on the subject.
"The DOE's plan contains some steps in the right direction, but has some serious holes. Most critically, it doesn't adequately address the reuse rights needed for the public to do more than simply read individual articles," Heather Joseph, executive director of the Scholarly Publishing and Academic Resources Coalition (SPARC), told Kaiser.
The department will create a "dark archive" of the papers that won't be available to the public but will make research available if a link to the regular site breaks or a journal goes out of business.
-Noel Brinkerhoff
To Learn More:
U.S. Energy Department to Make Researchers' Papers Free (by Jocelyn Kaiser, Science Insider)
Department of Energy Offers Public Access to Scholarly Scientific Publications (Department of Energy)
Is It Time to Allow the Public Free Access to Federally-Funded Research? (by Noel Brinkerhoff, AllGov)