For Weddings in Colorado and Washington State, Marijuana is Often the Key to Tying the Knot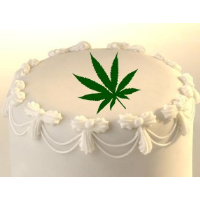 (graphic: Steve Straehley, AllGov; photo: Thinkstock Images/Comstock/Getty Images)
A new kind of high is being enjoyed on wedding day in Colorado and Washington, the two states that have legalized recreational marijuana use. Pot is popping up in all different ways at marriage ceremonies in these two states, from bridal bouquets to gift bags to celebratory toasts.
Wedding planner Kelli Bielema of Shindig Events in Seattle told The New York Times that marijuana use at weddings is "out of the closet now."
"I did a wedding recently where they had a little box, like a trinket box, and it had a bunch of joints in it. They just passed it around, and said, 'Here, enjoy yourself,'" Bielema added.
Sometimes, the marijuana shows up in hotel rooms where wedding guests receive their not-so-traditional gift bags. Still other couples have added hookah lounges to their receptions for friends and family to enjoy.
Advocates say serving marijuana is better than alcohol, since the latter can bring out the worst in people or stir up old family antagonisms. Pot just mellows out the crowd, they insist, making it a good time for all.
One stumbling block to the perfect weed wedding is finding a venue that will allow guests to smoke pot. In Colorado, marijuana use in public is still illegal, but exactly what that means isn't clear. Many popular wedding sites don't allow the use of pot because of the restrictions.
At least one bed-and-breakfast owner is fine with it though. Get High Getaways owner Dale Dyke hosted a marijuana-themed wedding recently at his Denver B-and-B, according to the Times. "Everybody was blazing the whole time," Dyke said. "Marijuana intoxication is full of positive emotion. People feel love and connection. Every single person cried at the wedding."
-Noel Brinkerhoff, Steve Straehley
To Learn More:
A Toast? How About a Toke? (by Lois Smith Brady, New York Times)
Marijuana Making Its Way into Weddings? (MSN Living)
Colorado Couples Say 'I Do' to Cannabis in Weddings (by Joanna Prisco, Good Morning America)
Washington and Colorado Brace for Clash with Obama Justice Dept. over Legal Marijuana (by Noel Brinkerhoff, AllGov)
House Republicans Want to Criminalize Support for Legal Drug Use by Americans Abroad (by Noel Brinkerhoff, AllGov)