House Republicans Want to Criminalize Support for Legal Drug Use by Americans Abroad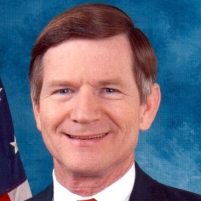 Rep. Lamar Smith
Republican Lamar Smith of Texas wants to outlaw the use of—or even just the planning of use of—drugs by Americans even if the activity occurs in another country where it's legal.
U.S. prosecutors could bring conspiracy charges against anyone who discusses, plans or advises someone else to use drugs—outside of the United States—because the new law would categorize these actions as a violation of the Controlled Substances Act.
"Under this bill, if a young couple plans a wedding in Amsterdam, and as part of the wedding, they plan to buy the bridal party some marijuana, they would be subject to prosecution," Bill Piper, director of national affairs for the
Drug Policy Alliance
, which advocates for reforming U.S. drug laws, told the Huffington Post. "The strange thing is that the purchase of and smoking the marijuana while you're there wouldn't be illegal. But this law would make planning the wedding from the U.S. a federal crime."
Smith's bill already has cleared its first hurdle, passing out of the
House Judiciary Committee
, on which the sponsor serves as chairman.
-Noel Brinkerhoff