Largest Reservoir in U.S. Drops to Lowest Level in its 77-Year History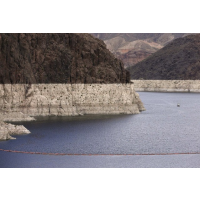 Lake Mead high water line (photo: Julie Jacobson, AP)
Fourteen years of drought plus growing, thirsty metropolises have considerably drained the largest man-made lake in the United States: Lake Mead, Nevada.
Established in 1937 following the completion of Hoover Dam, Lake Mead today is at its lowest water level since it first began filling up during the New Deal era.
It's lost 60% of its water capacity since 1983.
The mammoth reservoir has had far more water being pumped out to supply Las Vegas (from which 90% of its water originates) and other Southwest cities than water being carried in from its primary supply, the Colorado River. In addition to the drought, it has suffered from years of rising temperatures.
Demands for the lake's blue bounty is only expected to increase in the coming years, as the upper river states of Utah, Colorado, New Mexico and Wyoming seek more of their legally entitled allotment of river water to supply their growing communities.
However, the federal Bureau of Reclamation, which manages Lake Mead and other federal water projects, may prevent these states from taking what they're owed if the reservoir's water level continues to drop.
Right now, the water line stands at 1,081.8 feet above sea level, the lowest mark in 77 years. If it dips to 1,075 feet, as experts predict will happen within two years, the federal government will have to make some tough choices about water allotments stemming from the Colorado River.
In the meantime, Nevada water officials are spending more than $800 million to build two new pipelines, stretching for three miles, that will connect to Lake Mead, all because the existing water infrastructure is becoming exposed as the water level falls, rendering the old pipelines less effective. They have also undertaken a water conservation campaign that urges residents to replace grass with less water-hungry landscaping. Already 160 million square feet of grass has been removed.
-Noel Brinkerhoff
To Learn More:
Lake Mead Drains to Record Low As Western Drought Deepens (by Brett Walton, Circle of Blue)
Lake Mead, Nation's Largest Reservoir, To Reach Record Low This Week (by Ari Phillips, Think Progress)
Las Vegas Water Authority Opposes Recycling Water (by David Wallechinsky and LiAnn Ishizuka, AllGov)