Las Vegas Water Authority Opposes Recycling Water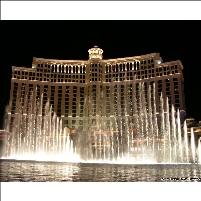 Bellagio Hote: Las Vegas Needs Extra Water
One would think that in an era of greater demand for shrinking resources, no government agency would oppose a plan to save water. But the Southern Nevada Water Authority, which services Las Vegas and Clark County, is just such an agency.
Water from Las Vegas homes is treated and then sent 12 miles by pipeline to Lake Mead. Water from Lake Mead is then pumped back to Las Vegas. Some homeowners, builders and environmentalists have suggested that home water bills could be cut if residents were allowed to recycle their own water from sinks, showers and washing machines into "graywater," which can be used to water lawns and trees. This is already allowed in rural areas outside Las Vegas.
But to the Southern Nevada Water Authority, there's a catch. Las Vegas is given an annual allotment of 300,000-acre-feet from the Colorado River. The water returned to Lake Mead converts to credits that allow the Water Authority to pump more water from the lake and increase the amount of water available to the city (and its hotels). The Water Authority argues that reduced water bills would lessen the incentive to curb consumption, causing more water pumped and less returning.
Other desert cities have been more sympathetic to the use of graywater than Las Vegas. In Tucson, Arizona, for example, by next year all new housing developments will be required to be plumbed for graywater use.
-David Wallechinsky, LiAnn Ishizuka