DEA Tries to Strongarm Physicians Connected to Marijuana Dispensaries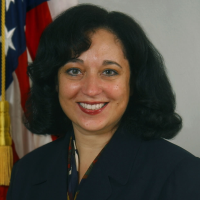 DEA Administrator Michelle Leonhart
Late last month, the House of Representatives passed an amendment that would stop enforcement of federal marijuana laws against therapeutic use in states where it's legal. The Drug Enforcement Administration (DEA) appears to be trying to get in its last licks before the proposal is approved by the Senate.
DEA agents in Massachusetts, which in 2012 legalized marijuana for medical use, have been coming unannounced to the offices and homes of doctors affiliated with marijuana dispensaries. The agents give the physicians a stark choice: leave the dispensary, or give up their DEA license to prescribe controlled medication.
"Here are your options," Dr. Samuel Mazza said he was told by Gregory Kelly, a DEA investigator from the agency's New England Division office, according to the Boston Globe. "You either give up your [DEA] license or give up your position on the board . . . or you challenge it in court." Mazza said he had returned from a vacation to find a DEA business card on the door to his home and several messages from agents on his answering machine.
Mazza, chief executive of Debilitating Medical Conditions Treatment Centers, is giving up his DEA license, saying he doesn't need it anymore. But other doctors tracked down by the agency can't afford to do that.
One physician, who asked the Globe to remain anonymous, said DEA agents came to his office without warning. "My terrified secretary asked what to do with them, and I said I'd see them in five minutes after I finished what I was engaged in," the physician said. The agents told the doctor he must either give up his DEA license or leave the dispensary. "I had no choice but to choose the last option," the doctor said.
The effect on Massachusetts' marijuana dispensaries in unclear, although it could tie up an already-delayed state licensing process and would also spook doctors involved with pot businesses.
"The main problem that I see with all this is the rollout for the program is already five-plus months behind and if the applicants are amending their applications to remove directors or members of the executive management team, this will just force the [state Department of Public Health] to relook at the plans the applicants have," Valerio Romano, an attorney who represents dispensary applicants, told State House News Service.
-Steve Straehley
To Learn More:
DEA Targets Doctors Linked To Medical Marijuana (by Kay Lazar and Shelley Murphy, Boston Globe)
DEA Targeting Doctors Linked To Medical Marijuana Groups In Massachusetts (by Matt Murphy, State House News Service)
House of Representatives Votes to Stop Obama Administration from Raiding State-Approved Medical Marijuana Facilities (by Steve Straehley, AllGov)
DEA Chief's Bizarre Defense of Marijuana Prohibition (by Noel Brinkerhoff, AllGov)