Is This the Most Corrupt Town in the U.S.?
Wednesday, March 12, 2014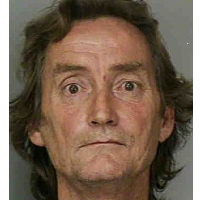 Mugshot of Hampton's most recent mayor, Barry Layne Moore (photo- Bradford Country Sheriff's Dept.)
With a population of less than 500 people, the town of Hampton, Florida, is so small that it's easy to miss while driving down U.S. 301. But this scratch of a municipality garnered a great deal of attention from state lawmakers and law enforcement investigators over the town's speed trap and the disappearance of huge sums of ticket-generated revenue.
Giving out speeding tickets was the primary duty of Hampton's police force, consisting of less than 20 officers (some of whom may not have been real law enforcement).
In one two-year stretch (2011-2012), the police gave out 12,698 tickets to motorists exceeding the speed limit. With a maximum of 17 officers, according to CNN, that comes out to an average of 747 tickets issued per officer—or more than one a day for two years straight.
The speed trap became so notorious that the Automobile Club's local branch sent out warnings to all of its members and erected billboards alerting the public.
The high volume of tickets resulted in hundreds of thousands of dollars rolling into City Hall—more than $600,000 in three years. But the money didn't translate the town of 477 residents into a greenback oasis.
The city continued to operate in the red, and much of the 89-year-old Hampton is run-down in appearance—which begged the question: what happened to all that money?
The state auditor general can't say for sure, even after going through Hampton's books.
That isn't surprising since in some instances the town's recordkeeping was nonexistent.
A city clerk in charge of collecting payments for residential water bills accepted cash only and stuffed the money into a bag—a bag that the local police would dip into when they needed money for "undercover" investigations.
Other concerns involve the city not paying its bills, failing to withhold employee payroll taxes or hold elections, not maintaining insurance on city vehicles, and 31violations of local, state and federal laws uncovered by a state audit (pdf).
But the biggest unknown is still the whereabouts of the speeding ticket revenue.
In addition to the state auditor's probe, the Florida Department of Law Enforcement investigators and the Bradford County Sheriff's detectives conducted a search of Hampton City Hall.
The results of the investigation are still pending.
Sheriff Gordon Smith told CNN that the town got swept up in the money frenzy of "cash register justice."
"It became 'serve and collect' instead of 'serve and protect,'" Smith said. "Do y'all remember the old 'Dukes of Hazzard'? Boss Hogg? They make Boss Hogg look like a Sunday school teacher."
Smith—an anomaly as a sheriff, being a Democrat in highly conservative North Central Florida—took on the system in 2012 and convinced a judge to remove the speed trap. The city's proceeds from traffic ticket revenue dropped 40% compared to the previous year.
But the corruption did not let up. It has included widespread nepotism by officials, overpaying a clerk by about $9,000 and racking up $132,000 in charges at a local BP station located next to City Hall.
"That's a lot of cigarettes and beer and what-have-you. That's corrupt as heck," Jim Mitzel, who was mayor of Hampton from 2000 to 2008, told CNN.
Another mayor, Barry Layne Moore, has been sitting in jail since November on charges of illegally selling painkillers. He says he was made a scapegoat after being "caught up in a bunch of nonsense that was bigger than me." He's not sure, but he thinks he may still be the mayor.
"It's something out of a Southern Gothic novel. You can't make this stuff up," state Senator Rob Bradley—whose district includes Hampton—told The New York Times.
All of these misdeeds may result in Hampton's biggest problem facing it: dissolution.
State lawmakers have held hearings about the town and are now debating whether to officially dissolve it as a municipal body.
"This situation went on for so long and the mismanagement was so deep, we have to seriously consider abolishing the government" said Bradley.
But hope springs eternal for Acting Mayor Myrtice McCullough. "We are certainly working on [solving all the town's problems]," she told the Florida Times-Union. "We are hoping and praying and working toward [preventing abolishment]."
Others think that, far from dissolving the town, outside forces should step in and save it. "The government bailed out General Motors. The government bailed out Chrysler. Why can't the state of Florida bail out the City of Hampton?" former mayor Mitzel told CNN.
Backing up his words, Mitzel launched a "Save our Town of Hampton, FL" campaign, which has its own Facebook page. At press time, it had 289 followers—barely more than half the population of the town.
-Noel Brinkerhoff, Danny Biederman
To Learn More:
Speed Trap City Accused of Corruption, Threatened with Extinction (by Ann O'Neill, CNN)
A Dot on the Map, After Scandal, Could Be Wiped Off (by Lizette Alvarez, New York Times)
Mayor of Tiny, Troubled Hampton Optimistic City Will Remedy Issues Threatening Dissolution (by Teresa Stepzinski, Florida Times-Union)
Federal Judge Rules Flashing Lights to Warn of Speed Trap is Protected Free Speech (by Noel Brinkerhoff, AllGov)
Infamous Speed Trap Town Eliminates Entire Police Department (by Matt Bewig, AllGov)