CIA Paid $15 Million Cash to Create a Torture Prison in Poland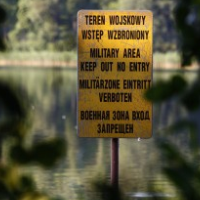 Stare Kiejkuty military area in Poland (photo: Kacper Pempel, Reuters)
Torture didn't come without a price tag, literally, for the Central Intelligence Agency (CIA) during the post-9/11 years and the hunt for al-Qaeda suspects.
Once the agency began rounding up key terrorism suspects, it needed a place to stash them and conduct brutal interrogations. The government of Poland proved a willing ally, by providing a location far outside Warsaw for the CIA to use.
But it had to cough up $15 million for the "black site" villa-turned-prison, according to The Washington Post.
The money was flown via diplomatic pouch from Germany to Warsaw, where two CIA operatives personally delivered it to Agencja Wywiadu, the Polish intelligence service.
For $15 million, the CIA got a former training base located in Stare Kiejkuty, about three hours north of Warsaw. The prison (codenamed "Quartz") consisted of a two-story villa that could only hold a handful of detainees. The "spartan" accommodations included a large shed, which the CIA converted into a cell to hold more prisoners.
The first detainees arrived in December 2002. They were two Saudis, Zayn al-Abidin Muhammad Hussein (aka Abu Zubaydah), a "high value" detainee, and Abd al-Rahim al-Nashiri, who was suspected of being involved with the al-Qaeda attack on a U.S. warship, the USS Cole, in Yemen on October 12, 2000.
Both men were previously held at a CIA black site in Thailand, which proved too small to maintain for the agency's interrogation program. "A chicken coop we remodeled," was how one former senior CIA official described the Thai prison to the Post. They were transferred to Poland on December 5, 2002, and spent six months there before being shipped to Guantánamo. In Poland Nashiri was subjected to mock executions and painful stress positions and threatened with a power drill. Both he and Zubaydah were told that members of their families would be arrested and sexually abused.
In time, other detainees were incarcerated in Quartz, which "was arguably the most important of all the black sites created by the agency after the Sept. 11, 2001, attacks," the Post's Adam Goldman wrote.
Among them was Khalid Sheik Mohammed, who orchestrated the attacks. He was reportedly waterboarded 183 times by the CIA. Abu Zubaydah was waterboarded 83 times.
Quartz was finally shut down in September 2003.
-Noel Brinkerhoff
To Learn More:
The Hidden History of the CIA's Prison in Poland (by Adam Goldman, Washington Post)
Poland Accused in Europe Human Rights Court of Aiding CIA Kidnapping and Torture (by Danny Biederman and Noel Brinkerhoff, AllGov)
Poland Charges Ex-Spy Chief over Involvement in Bush Torture Program (by Noel Brinkerhoff and David Wallechinsky, AllGov)
Obama Justice Dept. Refuses to Help Polish Torture Probe (by Noel Brinkerhoff and David Wallechinsky, AllGov)