Federal Judge Halts North Carolina Law Requiring Abortion Doctors to Show Ultrasound 4 Hours before Procedure
Tuesday, January 21, 2014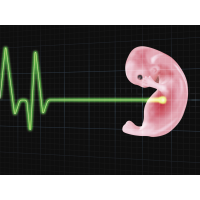 (graphic: onenewsnow.com)
North Carolina's law requiring doctors to show a woman an ultrasound and describe its image four hours prior to getting an abortion has been struck down by a federal judge.
The controversial statute mandated physicians to comply with its provisions even if the woman objected. But U.S. District Judge Catherine Eagles ruled (pdf) the law violated the First Amendment rights of abortion providers. She wrote that a state does not have "the power to compel a health care provider to speak, in his or her own voice, the state's ideological message in favor of carrying a pregnancy to term."
The case was filed by opponents of the law, including the American Civil Liberties Union, the Center for Reproductive Rights and Planned Parenthood Federation of America.
"Today's court ruling protects the rights of women and their doctors from the ideological agenda of extremist lawmakers," Jennifer Rudinger, executive director of the ACLU of North Carolina, said in a prepared statement. "If these unconstitutional measures had gone into effect, doctors would have been prevented from using their best medical judgment to provide patients with care based on their specific individual needs. This law represented an egregious government intrusion into individuals' private medical decisions, and we are very pleased that it will not go into effect."
The law had yet to go into effect due to an injunction imposed by Eagles at the plaintiffs' request.
Patients who had been victims of rape or incest could not have been considered exceptions to the law's mandate directed at their doctor. The requirements of the law included placing the ultrasound directly in the woman's line of sight, even if she chose to look away, and describing the embryo or fetus to her even if she tried not to listen. The doctor would also have been required to make available the "fetal heart tone" for the woman to hear.
Tami Fitzgerald, executive director of the NC Values Coalition, expressed disappointment with the ruling.
"This is a sad day for women's health in North Carolina," Fitzgerald said in an emailed statement to the Raleigh News & Observer. "The founders would roll over in their graves if they knew that the First Amendment is being used to keep women from receiving sound medical advice about their own bodies."
Republican lawmakers approved the measure in 2011 despite opposition from then-Democratic Governor Bev Purdue, who vetoed it. The legislature overrode Purdue's veto.
Supporters of the law want state Attorney General Roy Cooper to appeal the decision. Cooper spokesperson Noelle Talley said the state was still deciding on its next course of action.
-Noel Brinkerhoff
To Learn More:
VICTORY! Federal Court Strikes Down Demeaning North Carolina Ultrasound Law (American Civil Liberties Union of North Carolina)
Federal Judge Strikes Down NC's Ultrasound Abortion Law, Citing Free Speech (by Anne Blythe and Craig Jarvis, Raleigh News & Observer)
North Carolina Ultrasound Abortion Law Ruled Illegal by Judge (by David Adams, Reuters)
Gretchen Stuart v. Ralph Loomis (U.S. District Court, Middle District, North Carolina) (pdf)
Republican State Legislators Pass 40 Laws Restricting Abortion in First Half of 2013 (by Matt Bewig, AllGov)
Judge Rules North Carolina License Plates Unconstitutional (by Noel Brinkerhoff and David Wallechinsky, AllGov)