Network TV Pulls Back from Foreign Policy Coverage
Tuesday, January 14, 2014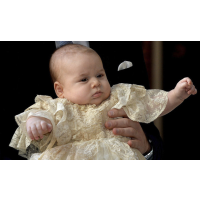 Prince George, star of network foreign news coverage (photo: John Stillwell, AP)
Network news programs spent little time covering key international events and developments during 2013, and largely chose to focus on celebrity-driven news when it came to foreign affairs reporting, according to the Tyndall Report, which monitors nightly news broadcasts.
In ranking the top stories covered by ABC, NBC and CBS, the report found only one foreign policy story in the top 10: Syria's civil war, its use of chemical weapons and the possible U.S. response. It occupied about 520 minutes of network news coverage, or about 3.5% of the total of 15,000 minutes aired Monday through Friday in 2013.
The networks focused their attention on domestic matters, with the Boston Marathon bombing (432 minutes), the federal budget fight (405 minutes) and Obamacare (338) garnering the most attention.
Syria made the top 10 list in two parts: the civil war came in at No. 4, and the chemical weapons story ranked at No. 10. Filling out the list were tornado season, winter weather, guns, forest fires and the National Security Agency controversy.
Largely ignored was news out of Latin America, most of Europe and sub-Saharan Africa, Central and South Asia (except for Afghanistan), and virtually all of East Asia.
After Syria, the next most-covered international stories were the death of former South African President Nelson Mandela (186 minutes); the ouster of Egyptian President Mohamed Morsi and its aftermath (175 minutes); the coverage of Pope Francis I (157 minutes); and the birth of Prince George (131 minutes).
The focus on the pope, Mandela and Prince George demonstrated the rise of "celebrity journalism" in news coverage, Andrew Tyndall, the report's publisher, told Inter Press Service.
He added that "a minor celebrity like Oscar Pistorius (the South African track star accused of murdering his girlfriend) attracted more coverage (51 minutes) than all the rest of sub-Saharan Africa in the [11] months before Mandela's death."
Network coverage of foreign affairs totaled less than 4,000 minutes, or 27% of air time, last year. An average of about 21 million Americans watch the three networks news on any given evening.
-Noel Brinkerhoff
To Learn More:
Major Parts of World Ignored by U.S. TV News in 2013 (by Jim Lobe, Inter Press Service)
Top Twenty Stories of 2013 (Tyndall Report 2013 Year in Review)
Top Ten Stories Ranked by Time on US Foreign Policy Focus 2013 (Tyndall Report 2013 Year in Review)