Fraudulent Bookkeeping at the Pentagon said to be Business as Usual
Wednesday, November 20, 2013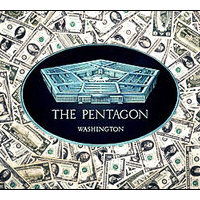 (graphic: BRussellstribunal.org)
The Department of Defense has spent not just years, but decades without accounting for how, or if, it has spent the trillions of dollars it has received from Congress.
A Reuters investigation found that accounting fraud is common at the Pentagon, and has even become standardized in order to cover up the billions of taxpayer dollars wasted on the U.S. military.
The Defense Department suffers from a "chronic failure to keep track of its money—how much it has, how much it pays out and how much is wasted or stolen," Scot J. Paltrow wrote for Reuters.
In one case cited in the report, the U.S. Army managed to lose $5.8 billion from 2003 to 2011 on equipment and supplies that were supposed to be sent to reserve and regular units.
In another case, Reuters found that various military divisions had signed contracts for new orders of supplies that they already had in excess, often up to three years' worth.
The fraud that has taken place was exemplified by this Reuters account of U.S. Navy bookkeeping at the Defense Finance and Accounting Services: "Every month, they encountered the same problem… Numbers came with no explanation of how the money had been spent or which congressional appropriation it came from....The data flooded in just two days before deadline. As the clock ticked down...staff were able to resolve a lot of the false entries through hurried calls and emails to Navy personnel, but many mystery numbers remained. For those, [the bookkeepers] were told by superiors to take 'unsubstantiated change actions'—in other words, enter false numbers, commonly called 'plugs,' to make the Navy's totals match the Treasury's."
The Pentagon's shoddy bookkeeping has continued despite a federal law in place since 1996 for full, annual audits of the agency—which have yet to take place. Meanwhile, Congress has appropriated $8.5 trillion over the past 17 years for the military.
The lack of proper accounting has also occurred despite even more recent laws adopted by Congress for the Defense Department to submit at least partial audits in the next few years. Reuters says the military will miss those deadlines because the armed services invested in bad accounting software.
-Noel Brinkerhoff, Danny Biederman
To Learn More:
Accounting Fraud And Waste Is Standard Procedure at the Pentagon (by Abby Ohlheiser, The Wire)
Unaccountable: The High Cost of the Pentagon's Bad Bookkeeping (Scot J. Paltrow, Reuters)
Pentagon Spends Billions on Cost-Overruns Just Trying to Track Its Spending (by Noel Brinkerhoff, AllGov)