"Independent Experts" Reviewing NSA Spying Have Ties to Intelligence Community
Wednesday, September 25, 2013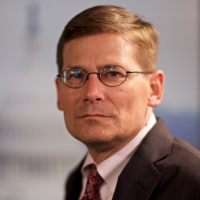 Michael Morell
President Barack Obama's special panel of "independent" experts charged with reviewing the National Security Agency's (NSA) domestic spying programs is actually lacking in independence.
For starters, the panel assembled to determine if the NSA has violated Americans' civil liberties consists of five members—four of whom have previously worked for Democratic administrations.
One member is Michael Morell, who served in the Central Intelligence Agency under Obama as deputy director, and twice served as acting director.
The other three with Democratic ties are Peter Swire, former Office of Management and Budget privacy director under President Bill Clinton; Richard Clarke, former counterterrorism coordinator under Clinton and later for President George W. Bush; and Cass Sunstein, Obama's former regulatory czar.
The fifth panel member is Geoffrey Stone of the University of Chicago, who was an informal adviser to Obama's 2008 presidential campaign and is now helping develop Obama's presidential library. Stone previously went on record as saying that the NSA's collection of Americans' phone records is constitutional.
"No one can look at this group and say it's completely independent," Sascha Meinrath, director of the Open Technology Institute and vice president at the New America Foundation, told the Associated Press after attending one of the panel's meetings.
Michelle Richardson, an ACLU legislative counsel who attended one meeting for civil liberties groups, said her organization "would have liked a more diverse group" for the panel.
Another sign that the group lacks independence is in its name—"Director of National Intelligence Review Group on Intelligence and Communications Technologies."
The AP's Stephen Braun noted that "the panel's official name suggests it's run by" the Office of the Director of National Intelligence (DNI).
In fact, Obama's announcement in August that the review group would be established by DNI James Clapper triggered a wave of criticism. Obama tried to quell the outcry by assuring the country that Clapper would neither run the panel nor select its members.
But there is more than the panel's name that suggests DNI oversight. The panel's so-called outside experts work inside offices provided by the DNI. And it is the DNI's press office that coordinates all press statements and interview requests.
Another point of criticism stems from Clapper's decision to exempt the panel from the U.S. Federal Advisory Committee Act, which requires such committees to conduct open meetings and notify the public about their activities. Indeed, it has been reported that during recent weeks the panel's meetings have been closed to the public even when no classified material was discussed.
There appears to be no formal directive stating that the panel should operate independently of the Obama administration. In fact, the situation is quite the opposite. An official White House memorandum actually provides the panel with instructions for areas to emphasize in its review: whether U.S. spying programs advance foreign policy, protect national security, and are safe from leaks.
In his August 9th press conference regarding the establishment of this panel, Obama promised that the "outside experts" will "consider how we can…make sure that there absolutely is no abuse in terms of how these surveillance technologies are used." But nowhere in the White House memo is the panel instructed to investigate surveillance abuses.
The panel's report is due by December 15. On that date it is not to be made public, nor is it to be delivered to the press. Rather, it will be submitted to the White House for review.
-Noel Brinkerhoff, Danny Biederman
To Learn More:
Close Ties Between White House, NSA Spying Review (by Stephen Braun, Associated Press)
NSA Spying Review Panel Appointed by Obama Set to Whitewash Surveillance Abuses (by Kevin Gosztola, Dissenter)
Surveillance Privacy: Obama Orders Fox to Guard Chicken Coop (by Noel Brinkerhoff, AllGov)