Surveillance Privacy: Obama Orders Fox to Guard Chicken Coop
Thursday, August 15, 2013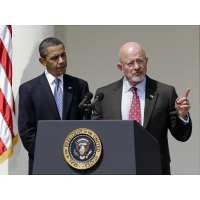 Barack Obama and James Clapper (photo: J. Scott Applewhite, AP)
It didn't take long for President Barack Obama to go back on his pledge to reform U.S. intelligence policy and, in doing so, put his plan for reviewing highly controversial programs into the hands of the nation's top spy chief.
Last week, Obama promised to form a group of "outside experts to review our entire intelligence and communications technologies."
Note the word: Outside. The president also said this new group would be "independent" (another key notation).
Flash forward to this week, when Obama announced that the new Review Group on Intelligence and Communications Technologies (Review Group) would be established by none other than James Clapper, the director of national intelligence.
Clapper is anything but an outsider when it comes to the administration's spying operations.
Many members of the media and civil libertarians criticized the president's announcement, pointing out that it omitted the words "outside" and "independent" entirely.
"Indeed, putting the director of national intelligence in charge all but guarantees that the effort will be neither of those things—especially since Clapper has already lied to Congress about NSA spying," wrote Coor Friedersdorf of The Atlantic, referring to when Clapper told lawmakers the government was not collecting phone records of Americans, which was not true, as whistleblower Edward Snowden demonstrated by releasing classified National Security Agency records.
Another red flag seen by observers in Obama's directive is a glaring omission that the Review Group would assess surveillance programs' intrusion on the privacy of Americans or recommend a system for protecting against abuse.
Mike Masnick, editor of the technology blog Techdirt, put it this way: "If this was about 'restoring the trust' of the American people that the government isn't pulling a fast one over on them, President Obama sure has a funny way of trying to rebuild that trust. This seems a lot more like giving the concerns of the American public a giant middle finger."
Following the negative response to Obama's announcement, the White House tried to assuage critics, saying Clapper would not head the Review Group or choose its members.
-Noel Brinkerhoff
To Learn More:
Obama Has Already Broken His Pledge on Surveillance Reform (by Coor Friedersdorf, The Atlantic)
Critics Question Obama's Vows to Reform Spying Programs (by Jared Metzker, Inter Press Service)
White House Insists James Clapper Will Not Lead NSA Surveillance Review (by Ewen MacAskill, The Guardian)
DNI Clapper Announces Review Group on Intelligence and Communications Technologies (press release, Office of the Director of National Intelligence)
Information Requests from Congress and Federal Agencies Fall on Deaf Ears at NSA (by Noel Brinkerhoff, AllGov)