Will the Federal Privacy Board Finally Do Something?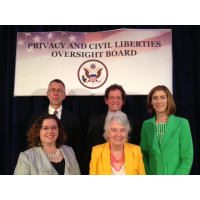 It took a major government leak exposing the National Security Agency's snooping on Americans' personal communications to finally motivate the White House into activating the long-dormant Privacy and Civil Liberties Oversight Board (PCLOB).
Created in 2007 following a recommendation by the 9/11 Commission, PCLOB has done little if anything for six years. In addition to going long periods without appointed members, the board lacked an executive director to handle its day-to-day operations.
Finally, though, PCLOB has its first-ever executive director, Sharon Bradford Franklin.
With Franklin and others in place, the board finally held a public hearing (on July 9) to discuss the NSA's surveillance programs exposed by whistleblower Edward Snowden and their legal, technological and policy implications. PCLOB also plans to produce a report on its findings and conclusions from the meeting.
"Our challenge is to understand exactly how these programs work, but speak about them publicly in a way that Americans can understand the programs and evaluate them," David Medine, the board's chairman, told Federal News Radio. "We will work in some cases to have information declassified, if it permits us a greater opportunity to explain how these programs work. Our view is to try to enhance counterterrorism efforts but also enhance Americans' privacy and civil liberties."
PCLOB also has numerous recommendations to consider from nonprofit government watchdogs regarding the NSA's surveillance work.
The Project on Government Oversight, OpenTheGovernment.org and National Security Counselors asked the board to:
Make sure that all government spy programs have a unique benefit
Ensure accountability by clearly stating for how long metadata and other information collected by spy programs can be retained in government databases
Facilitate transparency by publicly releasing declassified versions of legal documents that relate to the PATRIOT Act and the Foreign Intelligence Surveillance Act.
-Noel Brinkerhoff
To Learn More:
Long-Sleepy Privacy Board Gets New Life After NSA Disclosures (by Charles Clark, Government Executive)
Privacy and Civil Liberties Board Works to Inform Public on NSA Leaks (by Cogan Schneier, Federal News Radio)
Senate Finally Confirms Head of Privacy and Civil Liberties Board after a Year and a Half (by Noel Brinkerhoff, AllGov)
Obama Nominees to Privacy and Civil Liberties Board Finally Get a Hearing (by David Wallechinsky and Noel Brinkerhoff, AllGov)