Foreign Intelligence Surveillance Court Sides with Challenge to Secrecy of Obama Surveillance Details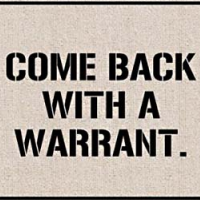 (graphic: Target.com)
The secretive intelligence court that normally acts as a rubber stamp for whatever spying the U.S. Government wants to do last week surprised many observers by ordering the Justice Department (DOJ) to respond to a lawsuit seeking details of unlawful Obama administration surveillance. Created by the Foreign Intelligence Surveillance Act in 1978, the Foreign Intelligence Surveillance Court (FISC) is responsible for hearing federal requests to conduct surveillance on Americans or foreigners in the U.S.
The lawsuit, filed by the Electronic Frontier Foundation (EFF), asks the FISC to release a secret opinion in which it ruled that a particular case of government surveillance violated the Fourth Amendment's protections against unreasonable searches and seizures. The opinion's existence was revealed in July by Sen. Ron Wyden (D-Oregon).
This is actually EFF's second attempt to obtain the opinion. In July 2012, the online liberties organization filed a Freedom of Information Act (FOIA) request with DOJ seeking release of the opinion. The government admitted the existence of an 86-page FISC opinion dated October 3, 2011, which appears to be the case Wyden cited, but refused to release it.
In responding to a FOIA lawsuit filed by EFF in August 2012, the government argued that FISC Rule 62(a) prevents the government from disclosing a FISC opinion unless the Court itself authorizes the release pursuant to the security procedures set forth in that rule, although the rule does not state that it is the only procedure allowed. The government also contends that disclosure of the opinion should be denied because it "implicates classified intelligence sources and methods."
In essence, the Justice Department is arguing that the appropriate venue to seek access to the opinion is the surveillance court, not the executive branch.
That leads David Sobel, an EFF attorney, to accuse DOJ of playing "a shell game," for in 2007, when the ACLU asked the FISC to release a different opinion, the Justice Department claimed the group should file a FOIA request to the department instead.
This "DOJ-imposed Catch-22 blocks the public from knowing more about the government's illegal surveillance," said EFF in a statement.
According to the order signed by FISC Presiding Judge Reggie Walton, Justice Department lawyers have until June 7 to file the government's response to EFF's motion for disclosure.
-Matt Bewig
To Learn More:
Surveillance Court Orders Govt to Respond to EFF Motion (by Steven Aftergood, Secrecy News)
Group Wants Special Court to Release Ruling on Unlawful U.S. Surveillance (by Ellen Nakashima, Washington Post)
Motion For Consent to Disclosure of Court Records (Electronic Frontier Foundation) (pdf)
Obama Push to Continue Warrantless Wiretapping and Email Interception Meets Bipartisan Support—and Opposition—in Senate (by Noel Brinkerhoff, AllGov)