First Woman on U.S. Most Wanted Terrorist List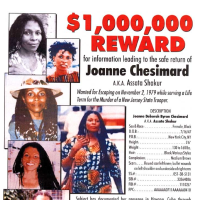 Forty years after a New Jersey state trooper was killed in cold blood, the alleged culprit, Joanne Chesimard, was named a Most Wanted Terrorist this week, marking the first time that the Federal Bureau of Investigation (FBI) has put a woman on the list, which was created a month after the attacks of September 11, 2001.
Chesimard, aka Assata Shakur, was a member of the Black Liberation Army in 1973 when she and two others were pulled over for having a broken tail light. An ensuing gun battle resulted in one officer, James Harper, being wounded and the other, Werner Foerster, being shot with his own gun at point-blank range.
One of Chesimard's accomplices was killed in the shootout. The other was arrested and remains in jail.
Chesimard was eventually captured, tried and convicted in 1977 of first-degree murder, armed robbery, and other crimes. She was sentenced to life in prison, but escaped from the Clinton Correctional Facility for Women in New Jersey on November 2, 1979, with the help of armed visitors, and made her way to Cuba, where she resides today, according to the FBI.
The FBI, which declared her a terrorist in 2005, and the state of New Jersey each are offering $1 million for information leading to Chesimard's apprehension.
Much debate ensued concerning the exact events of the shootout incident. "There is no evidence that she in fact either caused the death or was involved in the shooting of the state trooper," said Lennox S. Hinds, a professor of criminal justice at Rutgers who defended Chesimard in the murder case, in a telephone interview with The New York Times.
Supporters of Chesimard, who was the godmother of rapper Tupac Shakur, view the FBI's most recent push to call attention to her as an attempt by the FBI to capitalize on media coverage of domestic terrorism in the wake of the Boston Marathon bombings.
Chesimard is only the second domestic terrorist to be put on the FBI's list of Most Wanted Terrorists. The first was Daniel Andreas San Diego, a member of the Animal Liberation Brigade, who was added to the list in 2009 as the result of the bombings of corporate offices in 2003.
-Noel Brinkerhoff, Aaron Wallechinsky
To Learn More:
New Most Wanted Terrorist: Joanne Chesimard First Woman Added to List (Federal Bureau of Investigation)
New Push to Capture Woman in '73 Killing of State Trooper (by Christopher Maag, New York Times)
Assata Shakur (Wikipedia)