Regulation Loophole Exempted Texas Fertilizer Plant From Stringent Inspections and Rules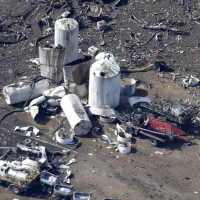 West Fertilizer explosion aftermath (photo: Tony Gutierrez, AP)
The West Chemical and Fertilizer plant that exploded April 17, killing at least 15 people, avoided government inspections and safety rules by claiming it was exempt under the law.
Under statutes governed by the Occupational Safety and Health Administration (OSHA), the plant avoided oversight by OSHA and qualified for a "streamlined prevention program" operated by the U.S. Environmental Protection Agency (EPA).
The result was that neither federal agency kept watch on West Chemical and Fertilizer's operations, which hadn't been inspected since 1985.
OSHA officials are now investigating the company's exemption claim to see if it was justified.
Normally, facilities using large quantities of hazardous substances are required to take preventive steps and plan for accidents, in accordance with OSHA's Process Safety Management standard, issued more than two decades ago. West Chemical and Fertilizer had enough anhydrous ammonia, a highly volatile gas that attacks the eyes, skin and respiratory system, to require it to follow this OSHA standard.
However, the standard contains what is known as the "retail exemption." According to OSHA, a fertilizer facility can avoid these extra requirements as long as more than half of the company's sales are to end users (i.e. farmers). OSHA does not check on the validity of an exemption unless it inspects the site, an agency spokesman confirmed.
The Fertilizer Institute publicly supported the exemption while the rule was being developed.
"It's a major flaw," Bryan Haywood, an Ohio consultant who advises companies on the safe use of dangerous substances, told The Center for Public Integrity. "This incident's going to get a lot of people's interest into how people are squirming out of [stricter requirements]."
Federal regulators are also determining whether the West plant was covered by a state law that exempts companies from regular inspections if they have fewer than 10 employees and are part of industries with low workplace injury rates.
-Noel Brinkerhoff, Aaron Wallechinsky
To Learn More:
'Retail Exemption' Shields some Fertilizer Facilities from Stringent Safety Inspections, rules (by Chris Hamby, Center for Public Integrity)
Texas Fertilizer Company Hid Dangerous Materials from Regulators (by Noel Brinkerhoff, AllGov)
Process Safety Management of Highly Hazardous Chemicals (Occupational Safety and Health Administration)
Interpretation of Retail Exemption (Occupational Safety and Health Administration)