Chair of the Securities and Exchange Commission: Who Is Mary Jo White?
Sunday, February 10, 2013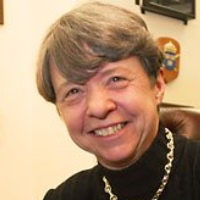 The next chair of the Securities and Exchange Commission (SEC) is either a tough-as-nails ex-prosecutor set to bring law and order to the fraudsters or a paper tiger de-clawed by a revolving-door career of high-paid work for Wall Street. Mary Jo White, President Barack Obama's choice to succeed former SEC Chair Mary Schapiro, is expected to face questions at her Senate Banking, Housing and Urban Affairs Committee confirmation hearing about her commitment to securities law enforcement, but is expected to be confirmed. Schapiro resigned in December, and Elisse Walter has served as acting chair since then.
Born December 27, 1947, in Kansas City, Missouri, White grew up in McLean, Virginia. She earned a B.S. in Psychology at the College of William and Mary in 1970, an M.A. in Psychology at The New School for Social Research in 1971, and a J.D. at Columbia Law School in 1974, where she was on the Law Review.
White served as a law clerk from 1974 to 1976 to Marvin E. Frankel, a federal trial judge in the Southern District of New York, based in Manhattan. After practicing law as an associate at the Wall Street law firm of Debevoise & Plimpton from 1976 to 1978, White served as an Assistant U.S. Attorney (AUSA) in the Southern District of New York from 1978 to 1981, where she became chief appellate attorney of the Criminal Division. Returning to Debevoise, White was a litigation partner focusing on white collar defense work, SEC enforcement cases, and civil litigation, from 1983 to 1990.
Returning to public service in 1990, White served as the First AUSA and acting U.S. Attorney for the Eastern District of New York, based in Brooklyn, from 1990 to 1993. On June 1, 1993, White became the first woman to serve as the U.S. Attorney for the Southern District of New York, a job she kept even after the election of George W. Bush in 2000. White also served as the first chairperson of Attorney General Janet Reno's Advisory Committee of U.S. Attorneys. During these years, White put mobster John Gotti behind bars and prosecuted the terrorists behind the 1993 World Trade Center bombing.
In January 2002, White returned yet again to Debevoise as a partner, specializing in white collar criminal defense and essentially defending the same sort of people from the same sorts of charges as she had been prosecuting the previous decade. Her defense work for several highly placed Wall Street insiders accused of fraud and similar wrongdoing related to the Wall Street meltdown of 2008, like Bank of America's Ken Lewis and Morgan Stanley's John Mack, has led many to wonder whether she will coddle white collar criminals in coming years.
In this context, the fact that JPMorgan Chase CEO Jamie Dimon, whose bank regularly retains Debevoise, has called White the "perfect choice" to run the SEC has been more hindrance than help to White's chances. Her years at Debevoise representing the titans of Wall Street may require her to recuse herself from many investigations, so that her knowledge of their confidential information cannot taint the SEC.
Rather than a committed prosecutor or a corporate shill, it may be that Mary Jo White is a hired gun, the sort of attorney who zealously represents her client no matter who that is. If so, and she is as aggressive at SEC as she was as Manhattan's lead federal prosecutor, her friends on Wall Street might be in for a rude awakening.

White is married to Washington attorney and SEC insider John White, a partner at Cravath, Swaine & Moore who served as the SEC's director of corporate finance from 2006 to 2008. They have a son.
-Matt Bewig
To Learn More:
Nominee for "Sheriff" Has Worn Banks' Hat (by Andrew Ross Sorkin, New York Times)
Choice of Mary Jo White to Head SEC Puts Fox In Charge of Hen House (by Matt Taibbi, Rolling Stone)
New SEC Chief Mary Jo White Thinks the Government Should Bring Cases – "To A Point" (by Matt Taibbi, Rolling Stone)
Mary Jo White: Good Cop or Bad Cop for Wall Street? (by John Wasik, Forbes)