Occupy Wall Street Was Target of FBI Counterterrorism Operation
Wednesday, December 26, 2012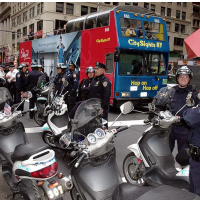 Police at Occupy Wall Street demonstration, September 17, 2011 (photo: David Shankbone)
Federal law enforcement and Homeland Security officials under the Obama administration viewed the grassroots Occupy Wall Street movement as a possible terrorism and criminal threat, according to the Partnership for Civil Justice Fund (PCJF).
PCJF obtained records from the Federal Bureau of Investigation (FBI) using the Freedom of Information Act that revealed the agency conducted a counterterrorism operation against the Occupy movement from the very beginning. The FBI did so despite acknowledging in its own files "that organizers explicitly called for peaceful protest and did 'not condone the use of violence' at occupy protests," according to the PCJF.
The documents show that FBI agents began spying on Occupy organizers as early as August 2011, a month before demonstrators camped out in—and were eventually evicted from—Zuccotti Park in Lower Manhattan, site of the movement's public birthplace.
In one memo, an FBI agent expressed concern that the Occupy movement could become "an outlet for a lone offender exploiting the movement for reasons associated with general government dissatisfaction."
"This production, which we believe is just the tip of the iceberg, is a window into the nationwide scope of the FBI's surveillance, monitoring, and reporting on peaceful protestors organizing with the Occupy movement," Mara Verheyden-Hilliard, PCJF's executive director, said in a prepared statement.
"These documents show that the FBI and the Department of Homeland Security are treating protests against the corporate and banking structure of America as potential criminal and terrorist activity. These documents also show these federal agencies functioning as a de facto intelligence arm of Wall Street and Corporate America."
-Noel Brinkerhoff
To Learn More:
FBI Documents Reveal Secret Nationwide Occupy Monitoring (Partnership for Civil Justice Fund)
FBI Counterterrorism Agents Monitored Occupy Movement, Records Show (by Michael S. Schmidt and Colin Moynihan, New York Times)
FBI Situational Information Report
FBI Loosens Restrictions on Spying (by Noel Brinkerhoff and David Wallechinsky, AllGov)
FBI Prepares Billion-Dollar Iris Recognition Database (by Matt Bewig, AllGov)