4 States Account for Three-Quarters of U.S. Executions
Thursday, December 20, 2012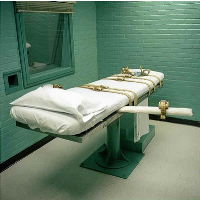 Execution chamber in Texas
Executions continue to decline in the United States, where only four states accounted for about 75% of all prisoners put to death this year.
Of the 43 people executed by the government in 2012, 33 of them died in Texas, Arizona, Mississippi and Oklahoma, according to the Death Penalty Information Center.
As it usually does, Texas led the nation with 15 executions. The other three states each had six. Nine states total conducted executions this year, the lowest number of states to do so in 20 years.
Four other states accounted for nearly two-thirds of all new death sentences handed down this year: Florida (21), California (15), Texas (9) and Alabama (7). This year 78 people were sentenced to death, a 75% decline since 1996.
California, which hasn't executed anyone in nearly seven years because of a temporary moratorium related to a court battle, has by far the largest Death Row population: 725.
Almost two dozen other states have not put an inmate to death in 10 years, which demonstrates that state executions are themselves dying off, says Richard Dieter, the Death Penalty Information Center's executive director.
"By every count, the death penalty is declining and becoming less relevant. It's not turned to even in states that have been strong proponents of the death penalty. I'd even include Texas, which is sentencing many fewer people to death," Dieter told the Associated Press.
Earlier this year, Connecticut became the fifth state in five years, and 17th overall, to abolish the death penalty for future crimes (leaving the 11 already on Death Row still eligible for execution).
-Noel Brinkerhoff
To Learn More:
Four States Execute 75% of Death-Row Prisoners (by Mark Sherman, Associated Press)
Death Sentences in 2012 Remain Near Historic Low (Death Penalty Information Center release)
The Death Penalty in 2012: Year End Report (Death Penalty Information Center) (pdf)