Army Wives Group Denies Membership to Lesbian Wife
Sunday, December 16, 2012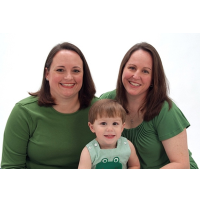 There is an old saying that if you take two steps forward and one step back, you will eventually reach your goal. This serves as an apt description of the progress of gay rights generally and marriage equality specifically in the U.S. In just the past year, the Defense Department (DOD) has dropped its policy of dishonorably discharging gay service members, allowed uniformed troops to march in a gay pride parade and hosted a same-sex wedding in the historic chapel at West Point. All steps forward.
And then there are the officers' spouses of Ft. Bragg, an Army post in North Carolina with a troubling history of discrimination against minorities. Early this month, the Association of Bragg Officers' Spouses denied membership to Ashley Broadway, the legally married wife of Lieutenant Colonel Heather Mack, ostensibly because she lacks a military I.D.—but that requirement was adopted only after she applied for membership.
Broadway, who has been with Mack for 15 years and has two children with her, is active as a family coordinator for the American Military Partner Association, which assists military members with same-sex partners and their families work through the discrimination they still face. As Broadway has pointed out, she is not the first gay spouse to be blackballed in this manner: in September, Tanisha Ward, the wife of a deployed female airman, was denied membership to the Little Rock Air Force Base Spouse's Club. That club's executive board, however, has proposed changes to its constitution to remove its year-old requirement for a military I.D. and forbid discrimination on the basis of sexual orientation.
Because of the federal Defense of Marriage Act, same sex couples are not recognized by DOD as legally married, but since the repeal of "Don't Ask Don't Tell" same-sex spouses have been openly participating in a variety of on-base activities. Although spouse clubs are considered private organizations and are not fully subject to military law and regulations, their constitutions and bylaws must be regularly reviewed and approved by base officials, and clubs are expected to abide by non-discrimination rules.
Broadway has not given up. Col. Jeffrey Sanborn, the garrison commander at Ft. Bragg, has agreed to meet with her soon to address the situation. Given that at least one military spouses club—the Goodfellow Combines Spouses' Club at Goodfellow Air Force Base in San Angelo, Texas,—already welcomes gay spouses, the question is whether Col. Sanborn will order club President Mary Ring to cease discriminating against gay spouses. That would be a step forward.
-Matt Bewig
To Learn More:
Army Wives Group At Ft. Bragg Discriminates Against Lesbian (by Dan Avery, Queerty)
Denied Because I'm a Same-Sex Spouse? An Open Letter to the President of the Association of Bragg Officers' Spouses (by Ashley Broadway, Huffington Post)
For First Time, Uniformed Troops March in Gay Pride Parade (by Noel Brinkerhoff, AllGov)