For First Time, Uniformed Troops March in Gay Pride Parade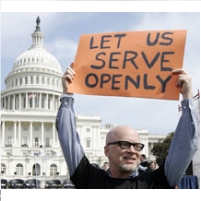 Army, Navy, Air Force, Marines … they all were represented last weekend in San Diego's annual gay pride parade. The presence of hundreds of military personnel—in uniform—marked the first time gay service members had marched in such an event anywhere in the country.
The participation of so many gays and lesbians was approved by the
Department of Defense
, which has done away with the "don't ask, don't tell" policy that previously forced homosexuals to hide their sexual identity.
The Associated Press reported, "Some of the loudest cheers [at the parade] were for active-duty troops marching in military dress."
Navy Senior Chief Dwayne Beebe told The Los Angeles Times: "I got an email from my admiral last night supporting my decision to wear my uniform." Beebe added, "That's a major change."
About 200 troops marched in the 2011 parade. But those participants wore t-shirts with their branch's name, not military dress.
-Noel Brinkerhoff