Acting Director of the Central Intelligence Agency: Who Is Michael Morell?
Tuesday, November 13, 2012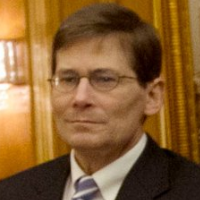 Once again placed in the awkward role of replacing a boss who was forced to resign abruptly, newly-minted Acting CIA Director Michael J. Morell is well suited to getting Langley back to normal. Within a day of the fall of former Gen. David Petraeus over his relationship with an Army historian whose embedment with the General's unit apparently led to her embedment with the man himself, President Barack Obama moved to ensure stability at CIA. Morell, a thirty-year man at the Agency, served a stint as acting director last year, and his will be one of several names considered by Obama for the permanent job.
Born in Cuyahoga Falls, Ohio, on September 4, 1958, Michael Morell is the son of Joseph S. Morell, who worked as a tool-and-die designer for Chrysler Motors, and Irene (Harangozo) Morell. Morell graduated from Cuyahoga Falls High School in 1976, earned a B.A. in Economics at the University of Akron in 1980 and an M.A. in Economics at Georgetown University in 1984.
Morell joined the CIA in 1980, although when he traveled to Washington for his job interview he had no intention of doing so. "I had every intention of going to grad school and getting a Ph.D. in economics and teaching," Morell explained in 2006, leading him to treat the interview as no more than a free trip to the nation's capital. He was offered a job and took it.
Starting as an analyst tracking international energy issues, Morell worked for 14 years as an analyst and manager on East Asia, rising to director of the DI's Office of Asian Pacific and Latin American Analysis in 1999. Morell served as a presidential briefer, i.e., chief of the staff who presents the President's Daily Brief, for Presidents Bill Clinton and George W. Bush, and he was with President Bush on September 11, 2001. After serving as executive assistant to CIA Director George J. Tenet, from 2003 to 2006, during which time the CIA was engaged in torture, Morell took a secret assignment overseas, including in London, UK.
Returning stateside, Morell served a three-month stint as deputy director for Intelligence at the National Counterterrorism Center, followed by service as the CIA's first associate deputy director from July 2006 to May 2008, making him the number three man at the Agency For the next two years, Morell served as director for Intelligence, leading the Agency's all-source analytic arm, which produces strategic and tactical assessments for U.S. policymakers and military commanders.
In May 2010, Morell succeeded Stephen Kappes, who had resigned suddenly and without explanation, as deputy director of the CIA, serving under directors Leon E. Panetta (February 2009-June 2011) and David Petraeus (September 2011-November 2012). Morell served his previous stint as acting director from July 1 to September 6, 2011, during the interregnum between Panetta and Petraeus following Panetta's appointment as Secretary of Defense.
Morell is married to Mary Beth Morell, and the couple has three children.
-Matt Bewig
Michael J. Morell: Introducing the CIA's New Acting Director (by Kevin Fallon, Daily Beast)
Amid Upheaval, Obama Loses "Source of Stability" (by David E. Sanger, New York Times)
Falls Native Named CIA's Director for Intelligence (by Steve Wiandt, Falls News Press)