Which Companies Helped Fund the Democratic and Republican Conventions?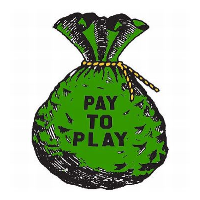 (graphic: truenewsfromchangenyc.com)
Despite promises by party leaders to not rely on corporate donations, the Democratic National Convention this year was a lot like its Republican counterpart, in that both relied heavily on big-money interests to pull off their events.
The single biggest source of funding for the Democrats' gathering in Charlotte, North Carolina, was an $8 million loan from Bank of America that was secured by Duke Energy, one of the nation's largest utilities.
In addition to the loan, BofA contributed $5 million and Duke Energy $4 million to planners of the Democratic convention. Other significant supporters included Dreamworks ($2 million) and AT&T ($1 million). Six-figure gifts were received from Time Warner, Turner Broadcasting, biotech firm United Therapeutics, United Health Care Services, US Airways, the Louisiana conglomerate the Shaw Group, Experient and General Electric.
The Republicans leaned heavily on wealthy individuals to finance their convention in Tampa, Florida. Topping the list was Las Vegas casino mogul Sheldon Adelson, who contributed $5 million. Another key contributor was Bill Edwards, a Tampa area resident, who gave $4.6 million through two of his companies, Marketing Solution Publications and Mortgage Investor's Corp.
Three hedge fund executives each ponied up $1 million for the GOP: Paul Singer of Elliott Management, Robert Mercer of Renaissance Technologies, and John Paulson of Paulson & Company.
One million dollar gifts were also provided by James S. Davis, chairman of shoe company New Balance, and David Koch, of the infamous Koch brothers.
In all, Republicans collected $55.8 million while Democrats raised a combined $55 million between two committees (one dedicated to official convention activities and another for outside events).
-Noel Brinkerhoff
To Learn More:
Small Donors, Billionaires, Corporations and a Loan Funded Party Conventions (by Russ Choma, OpenSecrets.org)
Duke Energy Gives Democratic National Convention $10 Million Line of Credit (by Noel Brinkerhoff, AllGov)