300th Wrongly Convicted American Released Thanks to DNA Evidence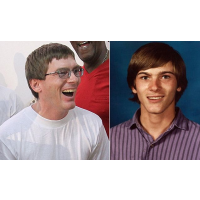 Damon Thibideaux (AP Photo)
The American criminal justice system has some explaining to do. Last week, for the 300th time since 1989, DNA evidence forced the release of a wrongly convicted prisoner, and there are likely thousands more still serving long sentences or awaiting execution on death row for crimes they did not commit.
The most recent case is that of Damon Thibodeaux of Louisiana. In 1996, the then 22-year-old deckhand on a Mississippi River workboat was sentenced to death for the killing of his 14-year-old step-cousin, Crystal Champagne. After 15 years at the notorious Angola prison farm for the crime, Thibodeaux was officially cleared via DNA testing and released on September 28, 2012.
The case illustrates the problems of inaccurate eyewitness testimony, police overreaching and false confessions that so commonly lead to wrongful convictions. On July 20, 1996, the body of Crystal Champagne was found on the levee in Bridge City, Louisiana. She had been beaten and strangled with a piece of red extension cord and the semi-nude state of her body suggested she may have been sexually assaulted.
Police interrogated Thibodeaux for nearly nine hours, but recorded only 54 minutes. After repeatedly denying any involvement in the crime, around 4:00 a.m. he gave a recorded statement confessing to raping and killing his cousin. Within hours, Thibodeaux recanted his confession, telling his court-appointed attorney he'd confessed out of a combination of fear of execution and grief over Crystal's death, but by then it was too late.
From the very beginning, the confession was suspect, because it was inconsistent with the crime in many details. For example, Thibodeaux told police he strangled Crystal with a white or gray speaker wire instead of a red extension cord. An expert hired by the prosecution concluded that Thibodeaux falsely confessed because he feared execution, but prosecutors never shared that with the defense.
"At that point I was tired," Thibodeaux told a reporter recently. "I was hungry. All I wanted to do was sleep, and I was willing to tell them anything they wanted me to tell them if it would get me out of that interrogation room."
The only substantial additional evidence against Thibodeaux was the testimony of two eyewitnesses who saw someone pacing near where Crystal's body was found. Both chose Thibodeaux from a photo array and identified him in court. However, they had both seen Thibodeaux's photo in local media before the photo array, and it was later revealed that they had seen the "pacing man" the day after Crystal was found—at a time when Thibodeaux was in police custody.
In 2007, the Jefferson Parish District Attorney's Office, along with the Innocence Project and Thibodeaux's attorneys, commenced a reinvestigation. They conducted DNA testing of the crime scene and other physical evidence and interviewed many witnesses.
DNA testing concluded that there was no evidence connecting Thibodeaux to the murder, that Crystal had not been sexually assaulted, and that Thibodeaux could not have been the perpetrator. Further, DNA on the red cord revealed male DNA that did not belong to Thibodeaux. The source of that DNA—almost certainly the real killer—has not yet been identified.
-Matt Bewig
To Learn More:
Louisiana Death-Row Inmate Damon Thibodeaux Exonerated with DNA Evidence (by Douglas A. Blackmon, Washington Post)
Damon Thibodeaux (Innocence Project)
Prosecutors Fighting the Use of DNA Evidence in Order to Save Face (by Noel Brinkerhoff and David Wallechinsky, AllGov
DNA Clears Texas Man after 30 Years in Prison (by Noel Brinkerhoff, AllGov)