In Test Case, Animal Shelter that Killed Pet Dog Sued for "Sentimental" Damage
Sunday, September 30, 2012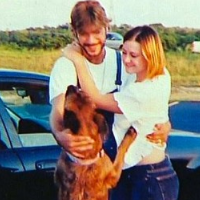 Jeremy and Kathryn Medlen with Avery
Texas' highest court will hear a potential landmark case on whether pet owners can sue for the death of their animal and recover damages based on sentiment.
Kathryn and Jeremy Medlen filed a lawsuit against their local animal shelter for wrongly euthanizing their dog. During a thunderstorm, their 8-year-old Labrador mix, Avery, escaped from the couple's backyard and was picked up by animal control. Jeremy went to the Fort Worth Animal Care and Control shelter to pick up Avery, but did not have enough cash on hand to pay the fee. He was told that a "hold for owner" tag would be put on Avery and he could pick up the dog a few days later. But when the Medlens returned, the shelter had already killed Avery.
The Medlens lost their first court hearing after a local judge ruled the plaintiffs could only recover damages based on the animal's market value.
But Texas' Second Court of Appeals reversed the ruling and concluded it is possible to recover sentimental damages in cases where no real market value exists for the lost property, such as photographs or other family keepsakes. The appellate court quoted the 1994 case of Bueckner v. Hamel in which a family dog was shot to death by a hunter. In that opinion, Judge Adele Hedges wrote, "Society has long since moved beyond the untenable Cartesian view that animals are unfeeling automatons and, hence, mere property. The law should reflect society's recognition that animals are sentient and emotive beings that are capable of providing companionship to the humans with whom they live. In doing so, courts should not hesitate to acknowledge that a great number of people in this country today treat their pets as family members. Indeed, for many people, pets are the only family members they have."
The defendant, Carla Strickland, who worked at the animal shelter, requested the state Supreme Court hear the case. Oral arguments will be heard on January 10.
-David Wallechinsky, Noel Brinkerhoff
To Learn More:
Texas Weighs Sentiment in Pet Death Damages (by David Lee, Courthouse News Service)
Appeals Court Says Owners May Sue to Recover the Sentimental Value of a Dog (by David Lee, Courthouse News Service)
Kathryn and Jeremy Medlen v. Carla Strickland (Texas Court of Appeals, Second District, Forth Worth) (pdf)
Dog Owners can Sue for Sentimental Value of Pet in Texas (by Chris Hayes, WHAS11)
Animal Shelter Killed War Hero Dog (by Noel Brinkerhoff, AllGov)