Animal Shelter Killed War Hero Dog
Thursday, November 18, 2010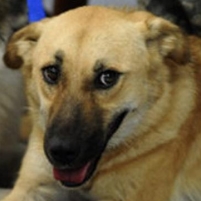 Target (photo: AP)
Five soldiers were injured by the blast, but they and others credited Target and the other dogs with saving their lives.
Sergeant Terry Young said he would have been fatally injured by shrapnel had it not been for Target, who was not an official military-trained canine, but a stray living on the base.
When Young returned home, he brought Target with him.
The dog got out of Young's backyard late last week and was picked up by animal control. When he went to retrieve Target on Monday, he was told she had been put to sleep, even though she was not scheduled for euthanizing.
The employee responsible has been put on administrative leave, pending a formal investigation. The shelter's director said procedures were not followed correctly, and she personally apologized to Young and his family for the mistake.
"I am heartsick over this," said Animal Care and Control Director Ruth Stalter. "This is unacceptable and no family should be deprived of their companion because procedures were not followed."
-Noel Brinkerhoff