Obama Gives Green Light to Shell Drilling for Oil in Arctic
Sunday, September 02, 2012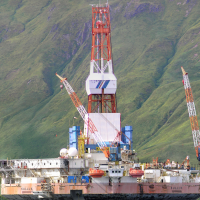 Shell oil drilling platform Kulluk (photo: Tom Doyle, flickr)
After six years of trying, Shell has finally gotten approval from the federal government to begin drilling off the coast of Alaska.
The Department of the Interior authorized Shell to conduct preparatory drilling
in the Chukchi Sea, where it will sink up to 1,400 feet of well casing that will eventually support safety systems designed to hopefully prevent an oil spill.
Environmentalists disagreed with the decision by the Obama administration, saying Shell and federal regulators are not prepared to deal with the dangers that come with oil drilling in frozen waters.
Niel Lawrence, a senior attorney at the Natural Resources Defense Council, accused the government of acting like drilling was "inevitable."
"While this is an interim step only, this is like a building inspector letting a developer start construction on a skyscraper on shaky ground before the safety plans are even complete. It's premature, it's unwarranted and it's wrong—especially when it's happening in one of the most pristine places on earth," Lawrence told The New York Times.
In April, the Obama administration approved Shell's emergency blueprint for containing an accidental blowout. The plan was designed to deal with a spill as large as 480,000 barrels of oil that, at that size, could reach the edge of the Arctic National Wildlife Refuge. The 2010 Deepwater Horizon spill dumped about 4.9 million barrels of oil into the Gulf of Mexico.
Shell cannot begin drilling to reach oil deposits under the ocean floor just yet. It must first install a blowout preventer and other systems, all of which are awaiting shipment out of Bellingham, Washington. The government must also sign off on these systems after they are installed before full-scale drilling can commence.
Once everything is in place, Shell hopes to drill two wells, one in the Chukchi and another in the Beaufort Sea, before the drilling season ends in October.
The Interior Department decision came on Thursday, which also was the final day of the Republican National Convention, during which several GOP speakers criticized President Barack Obama's energy policy for not moving faster on domestic oil drilling.
-Noel Brinkerhoff
To Learn More:
U.S. Approves an Initial Step in Oil Drilling Near Alaska (by John Broder, New York Times)
Coast Guard Protects Oil Drilling Ships from Environmentalists (by Noel Brinkerhoff, AllGov)
Obama Moves Closer to Allowing Shell to Drill in Arctic (by Noel Brinkerhoff and David Wallechinsky, AllGov)