Coast Guard Protects Oil Drilling Ships from Environmentalists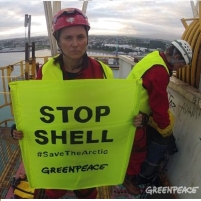 The
U.S. Coast Guard
has come to the rescue of oil companies planning to drill off the coast of Alaska by declaring environmentalists must stay away from company ships.
As 19 Arctic oil-drilling ships head through Puget Sound, groups like Greenpeace and others must remain 500 yards away from the vessels, according to a new
regulation
crafted by the Coast Guard.
The Coast Guard claims the rule is for the environmentalists' own good. Officials cited previous tactics used to disrupt oil-drilling operations that include putting kayaks, swimmers or small boats in front of ships to slow or divert them while teams of protesters try to board them.
Carrying out these risky maneuvers could result in protesters getting hurt or ships running aground, according to the agency.
"While the Coast Guard respects the First Amendment rights of protesters, it is clear that certain unlawful protest activity poses a danger to the life and safety of protesters, target vessels, and other legitimate waterway users. The Coast Guard must take swift action to prevent such harm," the agency said in a Federal Register notice.
The rule follows a lawsuit filed last month by Shell against 14 environmental groups, in which the corporation sought a court order declaring it was legal for Shell to proceed with Arctic Ocean drilling this summer.
Prior to that, a federal judge granted Shell a protective order preventing Greenpeace from interfering in the company's plans to explore offshore oil and gas leases in the Arctic.
-Noel Brinkerhoff
To Learn More: