Drug Companies Still Outsourcing Dangerous Trials to Poor Nations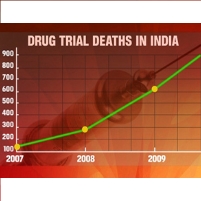 (graphic: Russia Today)
Despite getting into trouble in Africa, U.S. drug manufacturers are still going overseas, with increasing frequency, to test new medicines and take advantage of poor economic conditions…and lax regulation legal responsibility should anything go wrong.
India
is one popular destination for pharmaceutical companies wanting to avoid tougher regulatory guidelines for using test subjects in the U.S.
And getting volunteers is easy when so many Indians live in poverty.
In a nation where the average worker makes 50 cents a day, pharmaceutical corporations can offer $400 to participants in drug trials.
"Whether the studies are for birth control, diabetes, migraines or high blood pressure, money often draws volunteers into Indian drug trials," reports NBC's Dateline.
But paying locals what amounts to huge sums of cash is a violation of India's Drugs and Cosmetics Act, said Dr. Chandra Gulhati, editor of the Monthly Index of Medical Specialties, an Indian medical journal. Payments are allowed, but, "It should never be so much that it works as an inducement,"
Indian government figures show that more than 1,500 people have died during clinical drug trials, but it is not known how many would have died anyway if untreated. Last year foreign drug companies paid an average of about $4,800 to relatives of 22 Indians who died during or after drug trials. This is a fraction of what payouts would have been had the deaths happened in the United States.
-Noel Brinkerhoff, David Wallechinsky
To Learn More:
A Nation of Guinea Pigs (by Jennifer Kahn, Wired)