Obama's New Chief of Staff: Who is Jack Lew?
Wednesday, January 11, 2012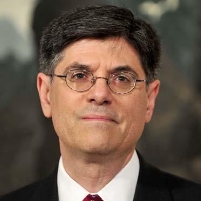 In selecting Jacob "Jack" Lew as his new chief of staff, President Barack Obama has turned again to a former member of the Clinton administration to improve his White House operation.
Lew replaces William Daley, who was brought in only a year ago to serve as chief of staff after Rahm Emanuel left to run for mayor of Chicago.
Daley, who previously worked for Clinton as secretary of commerce, was supposed to improve Obama's relations with Congress. Instead, he failed to prevent several nasty political fights with Republican lawmakers, including clashes over the federal budget.
His days were numbered once Obama adviser Pete Rouse took over the chief of staff's day-to-day operations of running the White House in the fall.
He comes in at a time when Obama gears up for what is expected to be a tough reelection fight this November.
Born August 29, 1955, in New York City, Lew grew up with a Polish father who was an attorney and rare-book dealer. Lew's first political experience came at the age of 12 when he volunteered for Democrat Eugene McCarthy's 1968 presidential campaign. His first taste of Washington came in 1973 when he interned for five months with Rep. Bella Abzug (D-New York). He then worked as a legislative aide to Rep. Joe Moakley (D-Massachusetts) from February 1974 until August 1975.
Lew graduated from Forest Hills High School in 1972 and attended Carleton College for a year before moving on to Harvard College from which he graduated magna cum laude in 1978.
Lew went to work in the city of Boston's Office of Management and Budget as deputy director of the Office of Program Analysis. In August 1979 he joined the office of House Speaker Tip O'Neill and remained with O'Neill until he retired in January 1987. Lew served as a principal domestic policy advisor and as assistant director, then executive director, for the House Democratic Steering and Policy Committee. (1985-1987).
While working for O'Neill, Lew also attended law school at Georgetown University, and earned his JD in 1983.
From February 1993 to October 1994, Lew served as special assistant to President Bill Clinton. He was responsible for policy development and the drafting of the national service initiative (AmeriCorps) and health care reform legislation.
In October 1994 went to work as OMB's executive associate director and associate director for legislative affairs. From August 1995 until July 1998, Lew served as deputy director of OMB, functioning as the agency's chief operating officer responsible for day-to-day management of a staff of 500. He frequently served as a member of the administration's negotiating team, including work on the Balanced Budget Act of 1997.
President Clinton nominated Lew to be director of OMB, and he took over in July 1998. He served in that capacity in January 2001, and left behind a federal budget that was in the black by $237 billion.
Lew departed Washington to become executive vice president for operations at New York University, along with serving as a clinical professor of public administration at NYU's Wagner School of Public Service.
In June 2006, Lew left NYU for the post of managing director and chief operating officer of Citigroup's Global Wealth Management. He then became managing director and chief operating officer of Citi Alternative Investments, responsible for operations, technology, finance, human resources, legal and regional coordination. He also chaired the CAI Operating Committee and served as a member of the CAI Management Committee.
He joined the Obama administration in January 2009 as deputy secretary of state for management and resources, a position he held until his selection as OMB director.
Lew and his wife, Ruth, have a daughter and a son. They practice Orthodox Judaism.
-Noel Brinkerhoff
Jacob Lew (AllGov)