Russian Hackers Accused of Damaging Water System in Illinois
Monday, November 21, 2011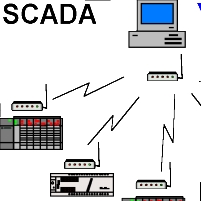 (graphic: Wastech)
In what cyber security experts say is a first, foreign hackers compromised the computer system of an American utility company and damaged equipment.
Their point of entry was the
Supervisory Control and Data Acquisition System
(SCADA), which may have been hacked as early as September, according to forensic evidence examined by experts. The hackers were able to get into the SCADA by first breaking into the network of a software vendor that makes the system used by the utility. They stole user names and passwords of SCADA customers and used these to gain access to the system.
-Noel Brinkerhoff
Foreign Hackers Targeted U.S. Water Plant in Apparent Malicious Cyber Attack, Expert Says (by Ellen Nakashima, Washington Post)