If U.S. Troops Are Leaving Afghanistan, Why Are New Barracks Being Built?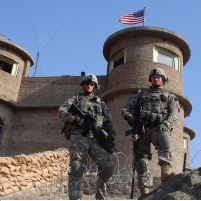 Bagram (photo: U.S. Army)
The United States may be planning to withdraw large numbers of troops from
Afghanistan
, but that doesn't mean the U.S. is leaving the country.
Over the next three years, while thousands of soldiers pack up and head home, contractors will be hard at work building new barracks and other facilities at the military's hub of operations: Bagram Air Field.
The former Soviet Union air base currently houses about 30,000
U.S. Army
,
Air Force
and NATO personnel–about the same number of men and women the Obama administration plans to pull out of the war by fall of 2012. That would still leave 68,000 troops in Afghanistan.
The U.S. plans to maintain a presence in Afghanistan for many years to come, which explains the awarding of a $14 million contract by the
Army Corps of Engineers
to a Turkish company to have eight new barracks constructed at Bagram. Expected to house more than 1,200 personnel, the buildings won't be completed until the fall of 2013, a year after the scheduled troop withdrawal.
The base, which holds ten times as many prisoners as Guantánamo, used to sport a Burger King and a Pizza Hut until March 2010 when the U.S. military shut down the fast food joints. "This is a war zone–not an amusement park," Command Sgt. Maj. Michael Hall, a senior morale, welfare and recreation officer wrote at the time.