Who's Underrepresented in Congress? Baptists, Pentecostals and "No Religion"
Tuesday, January 18, 2011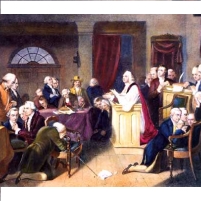 Continental congress begins iwth a prayer September 7, 1774
There are no atheists in foxholes, and only one in the 112th Congress.
A survey of those serving in the U.S. House and Senate reveals only one member considers himself an atheist, agnostic or "nothing in particular": Pete Stark (D-California) This is in contrast to the general population of the country, of which 16% falls into the non-religious category.
There also are some religious denominations that are underrepresented in the new Congress. Baptists make up 17.2% of the nation, but only 12.7% of politicians on Capitol Hill. Pentecostals account for 4.4% of Americans, but are not represented at all.
Those overrepresented include Episcopalians (8% Congress; 2% nation), Presbyterians (8% vs. 3%) and Jews (7.3% Congress; 1.7% nation).
The majority of representatives and senators are Protestant (57%), which is somewhat higher than the U.S. rate of 51%. The second largest group is Catholics, who make up 23.9% of American adults, but 29.2% of Congress.
-Noel Brinkerhoff