First Woman to Lead a Military Academy
Thursday, December 16, 2010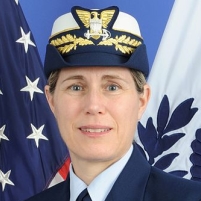 Sandra Stosz
Stosz was promoted to the rank of rear admiral only last month, and in doing so, became the first female Coast Guard Academy graduate to achieve the rank of flag officer.
A Maryland native, Stosz entered the academy in 1978 and was a cadet in the third academy class that allowed women. She has twice commanded ships: an icebreaking tug on the
Great Lakes and a medium endurance cutter that patrolled the North Atlantic and Caribbean.
-Noel Brinkerhoff