Office of Education Innovation and Improvement: Who is Jim Shelton?
Saturday, October 09, 2010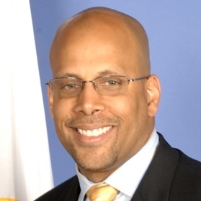 Shelton holds a bachelor's degree in computer science from Morehouse College (1989), as well as master's degrees in business administration and education from Stanford University (1993).
Shelton then worked with Joel Klein, chancellor of New York City schools, leading the planning for his reform strategy known as Children First.
Shelton and his wife, Sonia, have two sons, Justice and Jameson.
-Noel Brinkerhoff, David Wallechinsky