Surprise! As Afghan War Loses Support, U.S. "Discovers" Huge Mineral Deposits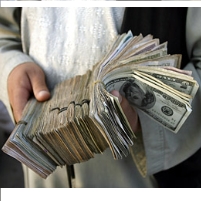 While there is no shortage of depressing news these days leading to questions about the United States' long-term presence in Afghanistan, there's one word that perhaps guarantees an American presence in the country for years to come: minerals.
Some observers have noted that the timing of the release of the story may be related to the American public's decreasing support for keeping U.S. troops in Afghanistan even as the Obama administration is increasing troop levels.
Recently, the news out of Afghanistan hasn't been good. The American-led offensive in Marja in southern Afghanistan has made only marginal progress. The government of Hamid Karzai continues to be accused of corruption and favoritism. And President Karzai at times talks more fondly of improving relations with the Taliban than staying friends with Washington.
-David Wallechinsky, Noel Brinkerhoff