Feds Ignored Louisiana Concerns about Experimental Chemicals Used against Oil Slick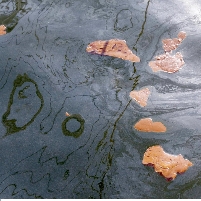 Gulf oil and chemical dispersants (AP Photo/The Houma Courier, Matt Stamey)
The federal government approved BP's use of chemicals to break up the oil from the Deepwater Horizon spill despite concerns from scientists and public officials in Louisiana.
EPA also has come under scrutiny for approving the use of two dispersants that aren't as highly rated as others for effectiveness or safety. In fact, about a dozen other government-approved dispersants have tested better for breaking up petroleum in water while not causing as much harm to ocean species.
Since the Deepwater Horizon oil platform accident occurred, BP has released 436,000 gallons of the two dispersants, Corexit EC9500A and Corexit EC9527A, into the Gulf of Mexico.
-Noel Brinkerhoff