Ambassador to the Vatican: Who is Miguel Diaz?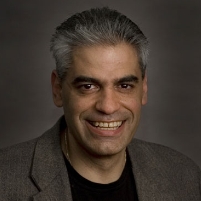 In the 25 years since the United States established formal diplomatic ties with the Vatican, Miguel H. Diaz represents the first time a Catholic academic expert (and Hispanic) has been selected to be U.S. ambassador to the Vatican. A theologian and scholar, and campaign advisor to President Barack Obama, Diaz is considered a pro-life Democrat who has come to the political aid of other Catholics selected to join the Obama administration.
Born in Havana, Cuba, in 1963, Diaz and his family immigrated to Spain before settling in Miami, FL, in 1972. His father worked as a waiter and his mother as a seamstress, along with doing data entry work. Diaz was the first member of his family to attend college, graduating with his bachelor's degree in 1988 from St. Thomas University in Miami Gardens, FL. He went to graduate school and received his master's (1992) and doctorate (2000) from the University of Notre Dame in Indiana.
Diaz taught religious studies and theology at Barry University in Miami Shores, FL, and also was an instructor at the University of Dayton in Ohio, and Notre Dame. From 2001 to 2003, he taught and served as academic dean at St. Vincent de Paul Regional Seminary in Boynton Beach, FL.
In 2004, Diaz became an associate professor of theology at the College of St. Benedict and St. John's University, both in Collegeville, MN, where he worked until now. His academic interests, in addition to his focus on the Trinity, include theological anthropology and Latino/Latina theologies.
Fluent in Italian, Spanish and French, Diaz was chosen as ambassador after rumors swirled about Washington that the Vatican had rejected several potential nominees, including Caroline Kennedy, because of their support for abortion.
Diaz's nomination was praised by Archbishop Pietro Sambi, apostolic nuncio to the United States, who called Diaz "an excellent choice because he knows very well the United States and because of his background in the Catholic Church."
While not a radical by any means, Diaz's writings are said to reflect a fondness for Latin American liberation theology and include references to figures such as Gustavo Gutíerrez and Ignacio Ellacuría. One media analysis of Diaz's nomination wrote that it was not accurate to characterize the ambassador as a "Cuban liberation theologian," which one news source did.
His wife, Marian, holds a Doctor of Ministry Degree and is an adjunct instructor at St. Benedict and St. John's. They have four children.
-Noel Brinkerhoff