Obama: Torture Okay if Just Following Orders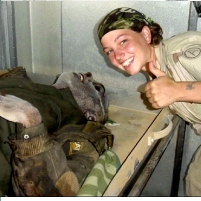 In a move with ominous implications for Constitutional rights in the United States, President Barack Obama announced on Thursday that his administration would not prosecute CIA employees or contractors who participated in the torturing of detainees in violation of the War Crimes Act of 1996. Saying now is "a time for reflection, not retribution," the president declared it would be "unfair" to try and convict those who participated in the extraordinary rendition program created by the Bush administration and those who committed torture, because these actions had been sanctioned by legal memos prepared by President Bush's Justice Department.
Not only will the Obama administration not prosecute CIA workers, it will provide legal representation at no cost to them if called before international tribunals or congressional investigations. They also will be protected from having to pay any financial judgments.
The decision to go easy on the CIA was intended to placate the concerns of top intelligence officials, who worried that morale and recruitment might suffer if the threat of legal prosecution hung over the agency or those who perform its clandestine operations.
Although President Obama has stated that torture will not be used during his administration, he sent a message to future presidents that they, like President Bush, can authorize its use no matter what the law says.
-Noel Brinkerhoff, David Wallechinsky