World's Richest 400 People Worth more than $4 Trillion; 3 Billion Adults Worth less than $10,000 Each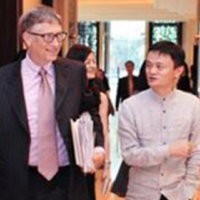 Bills Gates and Jack Ma
The new year promises to be a good one for some select individuals. Bloomberg's annual listing of the 400 richest people in the world found that they've increased their wealth by $92 billion to $4.4 trillion.
Others aren't as lucky. The Global Wealth Report (pdf) put out by Credit Suisse bank shows that 3.3 billion people, more than 70% of the world's population, have a net worth of less than $10,000 each.
The big winner in 2014 was Jack Ma, founder of Alibaba, China's answer to Amazon. He added $25.1 billon to the money stuffed under his mattress and now has a fortune of $28.7 billion. Ma's still a piker compared to Bill Gates though. Gates, the founder of Microsoft and the world's richest individual, has $87.6 billion.
The other end of the spectrum contains more than 90% of those who live in Africa and India. For those people, it's nearly impossible to escape poverty. "For many residents of low-income countries, life membership of the base tier is the norm rather than the exception," the Global Wealth Report reads.
The United States has the highest percentage of the world's ultra high net worth (UHNW) individuals, that is, those whose wealth exceeds $50 million. Almost half of the approximately 128,000 in that category live in the United States. China comes in second, way back at 7,600 UHNW individuals.
-Steve Straehley
To Learn More:
World's 400 Richest Add $92 Billion in 2014 as Alibaba Jumps (by Peter Newcomb and Alex Sazonov, Bloomberg)
Global Wealth Report 2014 (Credit Suisse) (pdf)
Census Bureau Confirms Growing Wealth Inequality (by Noel Brinkerhoff, AllGov)
Average American's Net Worth has Dropped One-Third in 10 Years (by Steve Straehley, AllGov)