Average American's Net Worth has Dropped One-Third in 10 Years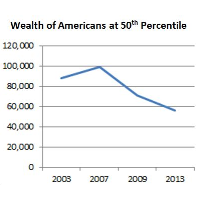 (graphic: Steve Straehley, AllGov)
We're told that the Great Recession that kicked off in 2008 is finally over, but to many Americans it doesn't seem as though they're back where they were before the crash. They're probably right: the net worth of average Americans is only 57% of what it was in 2007, according to a new report.
The study, conducted by the Russell Sage Foundation, showed that while the housing, stock and job markets have all improved, they've done so at different rates. The stock market has done the best, reaching record highs that have allowed Americans who hold equities to recover their lost wealth quickly.
The job market is better than it was, with the official unemployment rate falling to 7.4% by July 2013 from a peak of 10.0% during the recession. The most recent figure—for July 2014—is 6.2%. That number is still way above the pre-crash level of 4.7%, however.
The housing market, where the bulk of many Americans' assets are invested, has been the slowest to bounce back. By mid-2013 the average value of a single-family home was still 20% less than it had been in 2007.
As a result, according to the study: "Declines in net worth from 2007 to 2009 were large, and the declines continued through 2013. These wealth losses, however, were not distributed equally. While large absolute amounts of wealth were destroyed at the top of the wealth distribution, households at the bottom of the wealth distribution lost the largest share of their total wealth. As a result, wealth inequality increased significantly from 2003 to 2013; by some metrics inequality roughly doubled."
And the decline is likely to continue: "It is possible that the very slow recovery from the Great Recession will continue to generate increased wealth inequality in the coming years as those hardest hit may still be drawing down the few assets they have left to cover current consumption and the housing market continues to grow at a modest pace," the report concluded.
-Steve Straehley
To Learn More:
Wealth Levels, Wealth Inequality and the Great Recession (by Fabian T. Pfeffer, Sheldon Danziger and Robert F. Schoeni, Russell Sage Foundation) (pdf)
What Recovery? You Probably Became Poorer In the Last 10 Years (by Lynn Stuart Parramore, AlterNet)
Net Worth of Average American Family Reverts to Lowest Level in 20 Years (by Noel Brinkerhoff, AllGov)